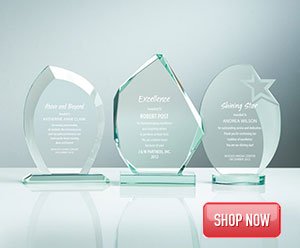 Award presentations are a common occurrence in the working world. We recognize behaviors we want to see repeated, so we often present awards to honor years of service, accomplishments, and outstanding performances.

When you make an award presentation, you want the employee to feel appreciated, valued, and hopefully reinforce their commitment to the organization. Make sure your award presentation has the desired effect with careful planning. We've distilled the most important elements of a successful award presentation into the following four tips:

Set the Stage
You can enhance the effectiveness of your award presentation by setting the stage. Consider your location and the setting. Does it reinforce the prestige and importance of the award? If not, change locations or make a few enhancements. You can easily improve an award presentation setting with balloons, signs, and decorations in the theme of the award.

Select an Award
The physical award you present to the recipient should be appropriate for the honor. Select your award item carefully and have a second person proofread your engraving. An award with a typo or misspelled recipient name will not achieve your desired result. Finally, before the award presentation, review the item one final time. Make sure it looks great and wipe off any fingerprints.

Prepare Your Remarks
What you say in an award presentation is more important than the award item. Your remarks will have an important impact on how the recipient feels. When you prepare and practice your remarks, you're more likely to make the recipient feel unique, special, and valued.

Invite an Audience
Great achievements deserve public praise! Get the entire team involved in your award presentation. You can invite teammates to simply watch the presentation or give them a role. For instance, ask a few individuals to share their own stories about the award recipient to make the presentation even more special.

An award presentation isn't something you should whip up in a few minutes. With careful planning, you can make your award recipient feel like a star!
-----------------------------
Cori is Baudville's in-house Recognitionista (she's officially a Certified Recognition Professional, too) and a member of the Millennial generation. Get her employee recognition tips and special discounts by liking Baudville on Facebook.