I've written before about how past companies that I've worked for didn't practice employee recognition. At my previous employer, the culture was such that it was hard to imagine them ever doing it. Former coworkers that I talked with about this new job actually thought it was a bit strange. Their attitude seemed to be that it was a nice idea, but not for us. Not for you, really? You're so confident and content that you don't need a pat on the back once in awhile? I didn't buy it then, and I'm not buying it now.

What's funny is that they were so quick to write off recognition. Maybe they were harkening back to the late 1990's, when corporate corridors were lined with motivational posters that implored you to soar to new heights, but gave nothing in return. (Remember those?) Partnered with stilted award ceremonies, they garnered more cynicism than inspiration. But recognition doesn't have to be exaggerated or contrived; in fact, it has the potential to be really effective if it's not.

If you want to build a recognition program, remember that there is no prescription for how it is carried out—you are at liberty to write the rules and you can make it anything you want.

Think about your company culture. It's often upper management that forms that culture and the people who stay there long term become an influential part of it as well. It's up to those players to create a program that they're comfortable with that's in tune with the company's vibe. Don't like flowery cards? Don't use them. Can't imagine ever giving a trophy? Then trophies aren't part of your program. The core of a recognition program is recognition itself—and that can take many different forms.

We took this to heart when we started developing our latest products. As a result, there is *literally* something for everyone. Within each product category there is a range from traditional to contemporary, simple to elaborate, cheeky to sincere. We've also taken the conventional recognition items like trophies and certificates and turned them on their heads (so to speak). So, if you're thinking recognition has to be serious and formal, you might want to take a second look: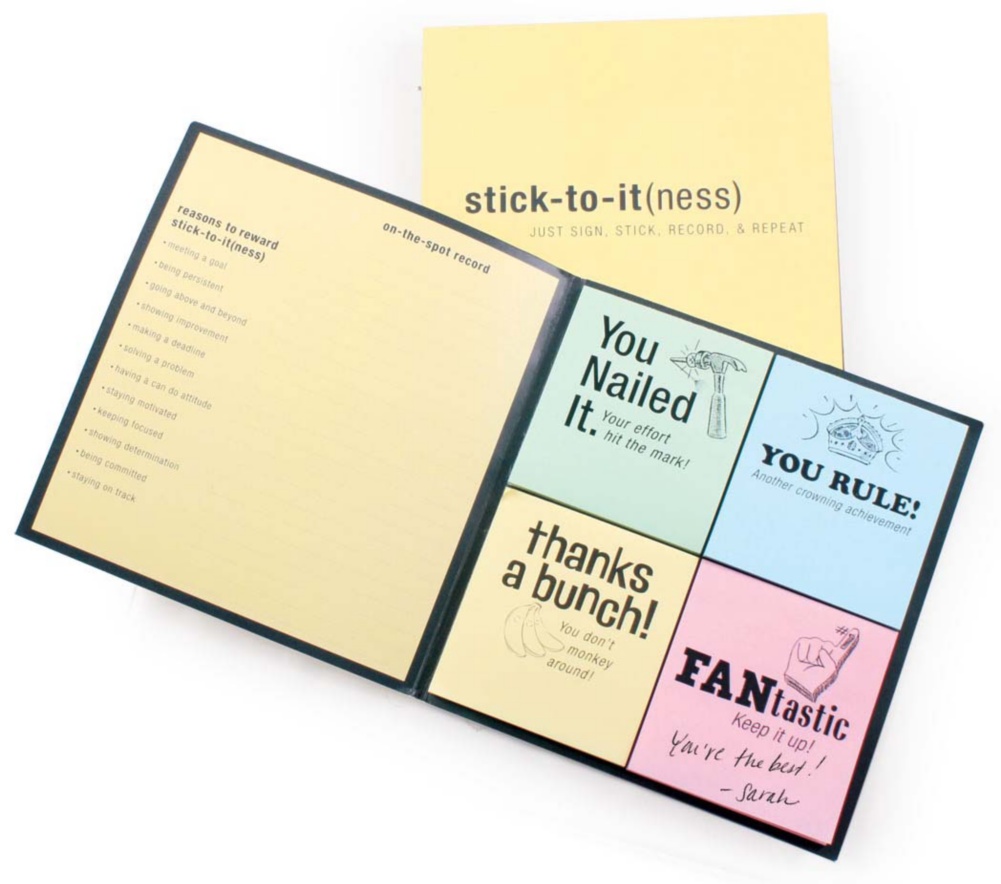 Peel-and-Stick Recognition Notes

Recognition, whatever its form, is vital to maintaining a happy, satisfied, and productive workforce. Find something that works for your organization and go out there and do it!