Holiday Parties Important for Employee Recognition, But You Can Celebrate in Smaller Ways
Each year, Baudville throws a holiday party to celebrate our team's efforts and accomplishments. It's the most anticipated event of the entire year and has earned quite the reputation! The party is known for its secret venues (revealed only a couple weeks ahead), surprising entertainment, delicious food and memorable employee recognition. The event takes several months of planning and is championed by our dedicated SPIRIT team (learn more about the team in my previous post) who strives to make each year more fun and memorable than the last.
The party is an important event for our company's culture, which is why this year we chose to throw a more modest party rather than no party at all. For many organizations, the holiday employee party is the only time of the year employees are encouraged to socialize outside of work. It's also one of the primary venues for formal employee recognition, an important part of an employee recognition strategy. Cancelling this event can have a demoralizing and discouraging effect on our staff.
62% of organizations, a record low, are hosting holiday parties for the employees this year, compared to 77% in 2008. But cutting back doesn't have to mean cutting out holiday celebrations altogether. If your organization has decided not to have a holiday party for employees, you should consider having a smaller team celebration. Here are a few ideas:
- Organize a potluck lunch
- Send a greeting card with a handwritten note to their homes
- Take the team bowling for an afternoon
- Have appetizers and drinks at someone's house
- Cater lunch at the office to avoid venue fees
- Give employees a gift they can use in the office
The holiday employee party is important to employees because it lets them know you value their work and contributions from the year. Be sure to express sincere appreciation during the holidays for their efforts. If you can't think of the right words to say, you can let us say it for you. We've designed exclusive Character Pins for the 2009 holidays that say it all: appreciation, motivation, sincerity. Pick the message that best fits your team and situation and present pins to individuals at your team get-together. Our holiday Character Pins are currently 25% off, so you get even more appreciation for your buck – a welcome message this year!
Check back December 14th or sign up for our email subscription to catch my next blog with details and pictures from our party!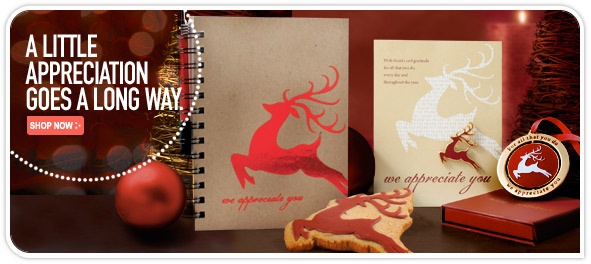 Don't miss out on the opportunity to recognize and motivate your staff during the holidays! Use one of Baudville's holiday themes to find just the right words.
----
Cindy is the Human Resources Manager at Baudville and has over 14 years HR experience. In addition to her HR Generalist duties, she's the center of positive mojo for the company and heads up many of our recognition initiatives, events and awards. In other words, she's got it going on!