I just returned from the Society for Human Resource Management (SHRM) 2012 Annual Conference and Expo, where we've been chatting with HR Professionals from all over the US. Part of our fun is sending the Baudville team to this show outfitted in fun (and sometimes funny) T-shirts that are guaranteed to spark some conversations.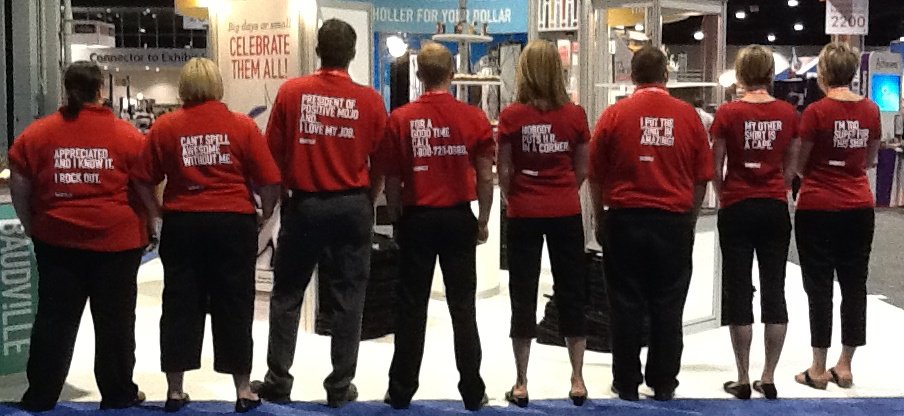 I'm third from the left with the shirt that says President of Positive Mojo…and I love my job.
You know what? I do love my job. Nowhere but the 'ville would I get to work with a talented team of individuals who bring their creative flair and imaginative spirit to the office every day. Case in point? The shirt on my back.
Recently, we launched a company-wide contest to write the winning words for our team's T-shirts. You can read more about that contest in Allison's recent blog post here. In short, it turned out to be a great way for everyone in the company to share their voices with the world—and we ended up with a wealth of fresh ideas, too.
So what's my takeaway? People thrive and excel when they're given the opportunity to play an active role in company activities—even when it's something as simple as a T-shirt.
Want to share your two-cents? Leave a comment about your favorite Baudville shirt, or your favorite way to engage your team!
Cheers!
Brad
------------------------
Brad Darooge is President and CEO of Baudville and a positive mojo aficionado. He brings the positive mojo to work every day along with his bike. In addition to leading Baudville, Brad is also an amateur triathlete.