Very. All it takes is one look at the U.S. Bureau of Labor Statistics American Time Use Survey to see that work and work related activities dominate our time. If we spend so much time at work, shouldn't it be enjoyable?
In his recent Examiner.com article, Robert Morris expressed his opinion that work is often too tedious and co-workers so insufferable that work cannot always be pleasant.
We would suggest otherwise. Bring some positive mojo into the office to spice up the culture and add a little fun to your day. Even the most boring tasks can be fun when your teammates are cheering you on and express their appreciation for a job well done.
We always strive for fun at Baudville. This past Monday, our new catalog with over 250 new products began arriving in customer inboxes. To pump up the company about this exciting milestone, a team of dedicated employees arrived super early at work – on a MONDAY, no less – and transformed the parking lot with colorful and festive chalk art.
If that's not fun at work, then we don't know what is.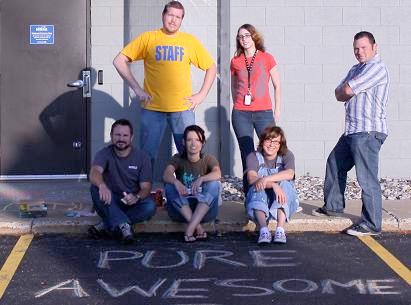 The Baudville Chalk Artists pose in front of some of their work.