This past year at the 2015 SHRM Annual Conference and Exposition and WorldatWork Conference, we talked with more than 2,000 HR Managers about employee recognition, engagement, retention, and culture.
Research and experience tells us that the way your employees interact with one another has an enormous impact on company culture and retention. And, based on what we heard from the attendees, 59% of HR Managers reported positive employee-to-employee relationships. Of those (and we we're particularly surprised) 40% have a peer-to-peer recognition program in place!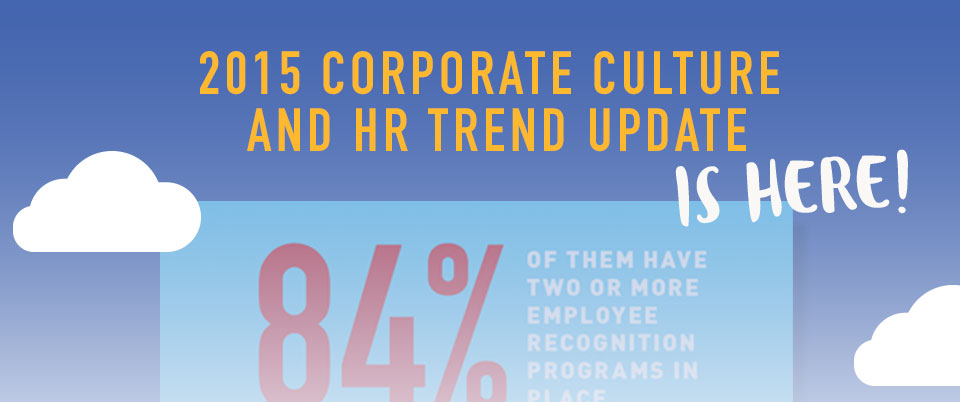 Click to read the full update now!
Source: 2015 Baudville-Conducted WorldatWork and SHRM Surveys
It's a fact that the people our employees are working with day-in and day-out either keep them coming back and working hard, or have them running for the nearest exit. Peers are the top influencers in much of our workplace happiness! Does improving your internal relationships sound like something your company might need to work on? Chat now with one of our recognition specialists to get some tips and ideas for peer-to-peer recognition.
Want to know more about what we learned from our 2,000+ HR Manager friends? Read the 2015 Corporate Culture HR Trend Update now!
---
As a team member since 2005, Falon has worn just about every hat the 'ville has to offer. She's seen both sides of working life — as an employee and as a manager — so if it sounds like she knows what she's talking about, we're pretty sure that's why. When she's not juggling between the IDville and Baudville brands, she's been known to whip up a mean diorama - just like that!