Peer recognition programs are very popular in organizations today. Peer recognition increases the quantity and frequency recognition is given, and it takes pressure off managers who are typically responsible for top-down recognition. We published a peer recognition white paper that explains the benefits of this type of recognition program– including improved culture, loyalty, job satisfaction and camaraderie.
Creating a peer recognition program is very easy thanks to existing, ready-to-use programs. We currently offer three peer recognition programs, and I'm going to give a brief how-to for two of them today.
Our Shout Outs Peer Recognition Program (Allison wrote a great writeup of the program last January) is one of our most popular and certainly deserves to be included in our How-to Recognition series.
Shout Outs are simple to use, and you start it by posting the Shout Outs pad in a public location. It can hang on a hook, be displayed on a bulletin board or stand on its own. Whenever an employee wants to recognize a co-worker, she tears a sheet off the pad, writes her personal thank you note, and posts it in a public location. That way, everyone can witness the recognition.
Here's how one of our customers described the program: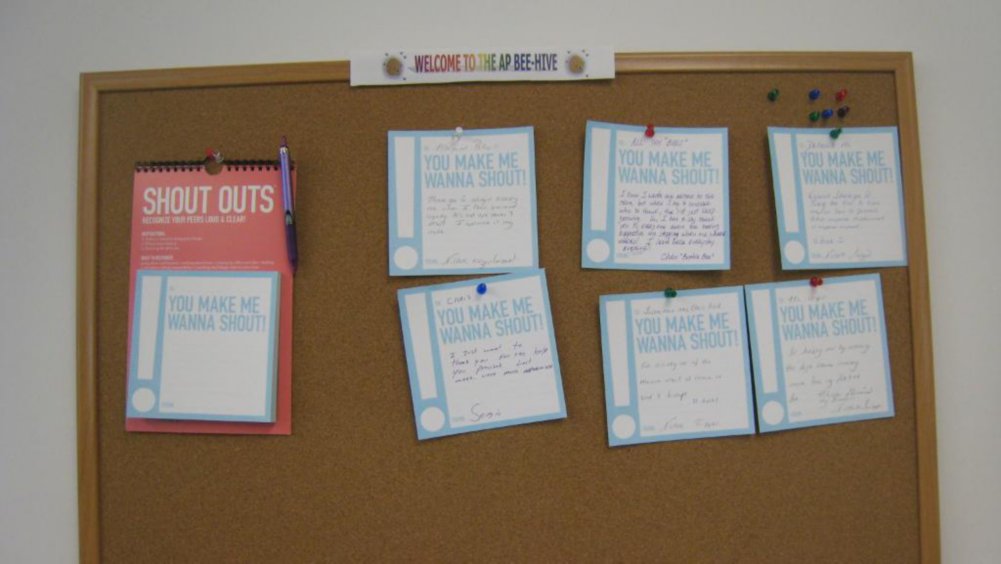 "I was looking for a tool that I could use to motivate my employees and build a team atmosphere among them. I was already using ePraise, Making a Difference and Thank You note/pin cards as a morale booster coming from me.
When I first explained the Shout Out recognition tool, I noticed some hesitancy on some of my employee's faces. It took about 4 days before the first Shout Out was posted, and after that many more were posted very quickly. I had someone from another department post a Shout Out for one my employees.
When employees read the nice words that someone had written about them and it was posted in a public area, their demeanor changed. They were very proud of the job well done that they were recognized for by their peers. This is an awesome and powerful tool. I would recommend this tool to anyone implementing an employee recognition program. It works!"
If you're looking for a peer recognition program that ties behaviors directly to goals, take a look at our Spot On Peer Recognition Program. You get everything you need in one box, including Spot the dog who serves as both a traveling trophy and mascot.
In the Spot On program, every employee is encouraged to deliver personal thank you notes to their peers. Each note has a receipt that is deposited in the dog house and tracked by the manager. The employee who received the most notes wins Spot. Other prizes are also available, and some organizations choose to include a save and redeem element, too.
Spot has a robust free recognition downloads section with additional tools and resources that make implementing and maintaining the Spot On Peer Recognition Program easy. We recently added new resources, so be sure to stop by for more free Spot On recognition downloads.
Peer recognition programs empower employees to be responsible for recognition and increase the amount of recognition that takes place. And with so many simple and affordable program options, not having a peer recognition program is sure to put you in the dog house!
Watch how-to videos on both Shout Outs and Spot On on Baudville's video page.
----------------------
Cori is Baudville's in-house Recognitionista (she's officially a Certified Recognition Professional, too) and a member of the Millennial generation. Get her employee recognition tips and special discounts by liking Baudville on Facebook.