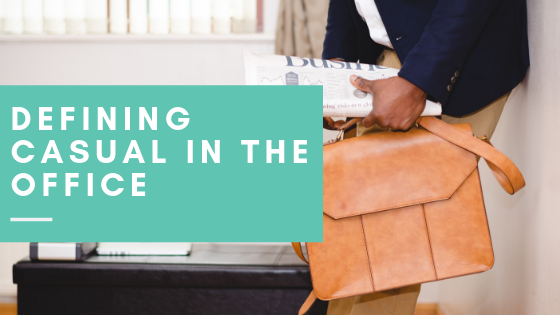 Casual days can be super awesome! They can be a great recognition tool or a way to spark community give-back or even be part of your company's culture with a full-time casual dress code.
Sometimes it can be an HR nightmare, though, with employees showing up like Meredith in The Office.
To avoid the Merediths in the workplace, policies still need to be in place for casual wear. If casual isn't defined in your company policies, it is often left to personal interpretation and may do more harm to your office eco-system than good.
According to the Oxford Dictionary, "business casual dress" is defined as "Relating to or denoting a style of clothing that is less formal than traditional business wear, but is still intended to give a professional and businesslike impression."
What you wear makes an impression, and you want that to be a good one!
The Balance Careers does a great job at defining and visualizing what a casual dress code looks like. They point out that casual wear will vary between companies on what that means to them, but it's still important to maintain a professional presence.
Here are a few examples of what casual in the workplace looks like, according to GQ and The Trend Spotter:
Create a casual standard and document it in a company policy. Enforcing those standards also helps staff remember what is considered appropriate and inappropriate in the workplace. By clearly defining and communicating what casual means for your office, your employees won't misunderstand the dress code. And the Toby's of your office will be happy!
More Interesting Reads
Why Enforcing Employee Breaks is So Important
Building Team Spirit in the Workplace [6 Tips to Help Managers]
Rock Your Next Meeting with These Tips & Tricks
For more #makingworkhappy ideas and inspiration, follow our blog!