Love 'em or hate 'em, meetings are a huge part of a professional's daily "grind." In fact, studies show that an average of 11 million meetings are held in the United States every day. The average salary cost of said meetings? $338.00 Take a moment to reflect on your average work day. At over $300 per gathering, how much are your business meetings costing your organization? And what measurable outcomes are you achieving after every powwow? Get more bang for your buck during your workday with these tips: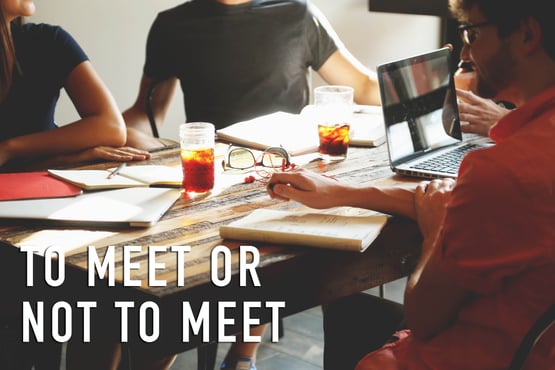 Be Prompt: Begin on time and end on time. It's as simple as that. If you're waiting for attendees to stroll in at their convenience, or begin each meet-up with a recap of your most recent shopping excursion or weekend adventure, you will almost certainly get less accomplished. Respect one another's time and also the company's resources by ending on time so you aren't tying up a meeting space where another team could be brainstorming their next brilliant campaign or sales pitch.

Be Prepared: Though the villain of The Lion King, Scar said it best when he proclaims to his followers, "Be Prepared!" If you're organizing a meeting, make sure all the attendees know what on earth will be discussed and decided. Send a few questions or bullet points beforehand so people can do some digging and brainstorming before they even set foot in the meeting space.

Be Decisive: There's nothing I hate more than spending an hour discussing new ideas or different ways of executing a strategy and leaving the meeting without action steps or any clue of what was actually decided. When there's about five to ten minutes left on the clock, try to synthesize all of the ramblings and ideas from your scrum into one conclusive statement or decision. Assign to-do's appropriately and get going with your amazing idea!!

Be Selective: "Let's schedule a meeting" is a common response to many of today's business issues. But when is an in-person physical meeting necessary? A good rule of thumb is to only call a meeting when something cannot be resolved or decided in an email. Go ahead and send that meeting request if clarity, a consensus or a solution to an immediate problem must be reached.

Now that you're a master of the everyday meeting, put these tips into practice and let us know how your productivity has soared by emailing us at: recognition@baudville.com!

Abby joined the Baudville team in 2016 and loves contributing to the blog, creating new email campaigns and of course patting her amazing teammates on the back for a job well done!