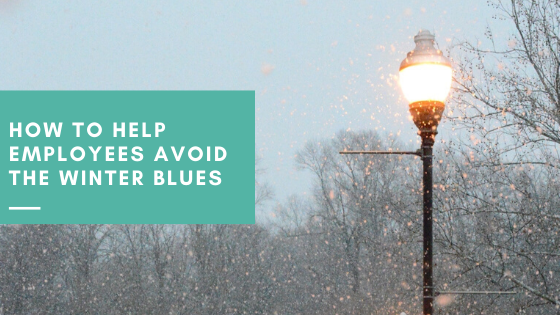 How to Keep Employees Away from the Winter Blues (Ways to Keep Work Fun!)
Oh winter…why dost thou make my heart feel as heavy as the bleak gray sky? I know some of you live in year-round sunny states, but just let us Northerners be a little melodramatic for a moment, please.
But, having lived in South Carolina for a handful of years, I know that even winter in the sunshiny states can be monotonous, leaving us feeling uninspired and ready to hibernate.
What can we do?
We can either succumb to these feelings of idleness and melancholia and allow our team to do the same. Or we can put on our big person leadership pants and find ways to keep ourselves and our employees smiling and motivated, even in the depths of winter.
The Low-Down on Employee Winter Blues
It's late January and everything in your company has slowed to a snail's pace. Does a general lack of energy and joy pervade? Is the low-down that everyone is down? If so, the winter blues have drifted into your workplace.
Statistically, winter is rough on our emotions and mental well-being, especially where clouds dominate the skies.
According to the Cleveland Clinic approximately 10 to 20 percent of people suffer from the winter blues.
And, again, we Northern folk are not alone. Even in the sunnier states, less overall light and shorter days change our body clocks and internal rhythms. This can lead to feeling blue, depressed, and may even trigger seasonal effective disorder.
Additionally, during the winter months, we spend far too much time inside binging on the latest Netflix docuseries. As oddly gratifying as this is, holing ourselves up for months on end separates us from the human connections we need most, which can quickly lead to feelings of despair. Then we drag that doom and gloom attitude into the workplace.
So, now that we know that no one is immune to the winter blues, let's talk solutions.
Sure-fire Ways to Warm up Your Team
With fewer things on the calendar this time of year, it's a great opportunity to host a weekend event for your employees. Get them outside for some seriously fun team building activities, and don't forget the hot cocoa!
If you're anything like me, you have a firepit in your backyard collecting mountains of snow or dust. How about inviting the gang over for aluminum foil dinners and s'mores? Keep them warm with a team-inspired hoodie, get a fire roaring, make up a variety of easy foil dinners and have marshmallow sticks close at hand. Encourage healthy competitions, like who can build the tallest snowman or play a few games of cornhole. Send your employees off with a reminder of how much you appreciate them.
Not everyone in the office skis or snowboards? Tubing at a local ski resort is the perfect remedy for the winter blues—and a barrel of laughs! For those of you in warmer locales, or without hills/mountains nearby, look for a zip-lining course or even an indoor trampoline park. High altitudes always lift the spirits!
Need a more cost-effective option? Offer up this simple antidote—give your employees an extra 15-minute break each day to go outside for a brisk group walk. Getting the blood pumping floods the body with endorphins (aka happy hormones) and is a proven remedy for the blues. Plus, they'll get some conversation time in on the way, which enhances their bond.
Stay Put
Is your team the more indoor type? Keeping the fun inside can elevate moods and boost morale too!
Trivia or Game Time.
Come on, who doesn't love a good round of Six Degrees of Kevin Bacon? Or bring in a stack of entertaining board games and give your team a half hour of free time to get their minds off work and encourage camaraderie. Give them positive affirmations with a fun treat to munch on.
Channel your inner yogi.
Hire a yoga or meditation instructor to come in an hour before your team clocks out to guide everyone through an inspirational hour of peace and harmony. Surprise them with a new water bottle to stay hydrated and wash away those nasty pent-up winter toxins.
Simple (and Inexpensive) Ideas
You don't need to bend over backwards to spark your team's productivity and bring a smile to their faces. Try some of these bright, easy ideas:
Let there be light.
Fluorescent lights can contribute to headaches and eye strain, aggravating already apathic feelings. Increase the light in your space by adding extra floor lamps with warmer-toned LED bulbs. Thumbs up to energy efficiency and lower electric bills too!
Promote exercise and healthy eating.
Start a wellness challenge or a walking club. Instead of carbing it up with donuts that make your team feel sluggish, offer veggie trays and fruit in the breakroom.
Put it in ink.
Write a quick note and give your employees the pen that you wrote it with. Quick, inspiring affirmations are guaranteed to motivate.
Encourage them with a short pep talk.
Meet with each employee, chat about their hopes and aspirations and give them a little something to cheer about.
In the winter, keeping the workplace fun and your team light-hearted is well worth the extra effort. Take the time to show them you sincerely care. And, assure them that spring is right around the corner.