'Tis the season to be jolly, generous, and productive. Finding the time to hunt down the perfect gift for everyone on your nice list, meet fourth quarter deadlines, and attend Aunt Nancy, Sue & Grandma's holiday parties can be next to impossible this time of year. The demands of work and the desires of your family are vying for your energy nearly constantly. Here are a few tips for you to not just survive, but thrive this holiday season!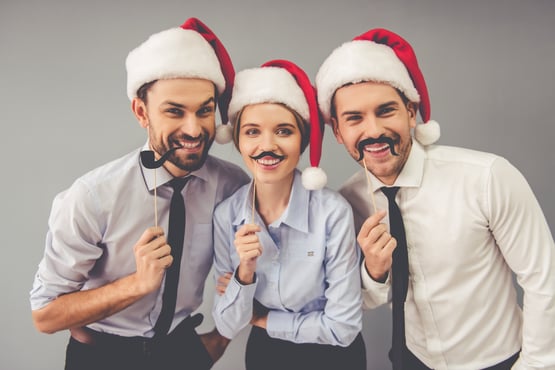 How to Master Work-Life Balance During the Holidays
Set Boundaries: The word "boundary" is often associated with negative terms like "limitations" and "rules." But setting guidelines for yourself about where you spend your time during the holiday season can provide you with a lot of freedom. Freedom to enjoy your work and your family! Make a schedule for the month and indicate which days you will be out of the office and which days you plan on putting in a little extra time to meet deadlines. Communicate and discuss these plans with your manager and your family so they know what they can expect from you over the next several weeks.
Be Present: One of the best ways you can maintain your sanity this month, is to be single-minded when it comes to your time. When you're at work, be diligent and uber productive. Don't let your cursor wander into the land of online holiday deals or the black hole of holiday photos on Facebook. Keep your nose to the grindstone so you can fully enjoy every moment of holiday or PTO days. And when you're home, unplug from your work computer and avoid checking your emails on your phone. Your family and friends will surely appreciate your undivided attention at the (seemingly endless) holiday parties and gatherings.
Establish Priorities: If you were to say "Yes" to every single new project at work and accept every holiday party invitation that came your way during December, you would likely lose your sanity and your holiday spirit. In the next couple days, sit down with your manager and decide which projects are "must-do" or "would-be-nice-to-have" items for the month. Set a reasonable goal for yourself and attack it with a vengeance. After all, Aunt Sue's legendary Christmas Day Pumpkin Roll is waiting for you on the other side.
On a personal note, make sure you're not overloading your schedule. It's ok to say "No" to a few festivities. When you prioritize both your professional and personal schedules you're more likely to have an enjoyable and relaxing holiday season!