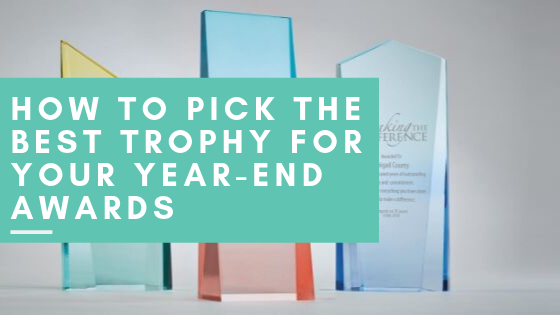 Choosing the perfect trophy to present at your end of year awards is dependent on several factors. Answer the questions below to help you find the best trophy for your recipient!
How to Pick the Best Trophy for Your End of Year Awards
What Are They Being Recognized For?
For picking out the best trophy, a good place to start is understanding what the trophy is for. Why is the recipient being awarded this trophy? Is it for an employee landing a big sale? Or maybe they truly went above and beyond their role to impact the company in a positive way? Knowing the occasion of the award may contribute to the type of trophy being awarded.
Who's Being Recognized?
Knowing who is being recognized may also lead you to the most appropriate trophy as well. For example, if a group of people are being recognized it may make more sense for you to present each recipient with a smaller acrylic trophy. If a key employee in the company is getting the spotlight at an event, a crystal trophy may be the best option.

What Type of Award Event Are You Hosting?
Will you be planning an award ceremony with all the bells and whistles? If so, you may want the award to match the occasion. Or maybe it's low-key and you're presenting it in your next team meeting.
A more prestigious award event requires a more prestigious award, like our crystal, and vice versa.
What's Your Budget?
Budget does have a hand in determining the type of trophy you will present. Finding a trophy that works within your budget is key. That's why there are a variety of trophy choices that we provide here at Baudville, making sure there's a perfect trophy for everyone.
No matter the trophy chosen, make sure it matches your company's culture and branding. At the end of the day, the award is an extension of your company. You want to make sure it's representing they way you'd like it to!