Thanks to everyone who attended our live video webisode this morning! If you weren't able to attend, you can view the recorded version in the Recognition TV section of our website or on our Facebook page.
Today, I shared three steps to starting a recognition program and hopefully showed you that a recognition program isn't hard to start or maintain. It just takes a little bit of planning up front.
Step 1: Identify what you want to recognize
Take inventory of any kind of recognition you're already doing and look for any gaps where performances aren't being recognized. Maybe you cater lunches for meeting goals or give service awards to recognize anniversaries. That's great! Now you can build on it with more frequent recognition.
For recognition to be effective, it needs to support your organization's values and goals. Spend some time reviewing your company's values or team's goals and brainstorm what behaviors your team could exhibit that would accomplish them.
Step 2: Decide how you will recognize
Your means of recognizing are extremely important in motivating your staff. You need to consider your employees' preferences and your budget when determining your recognition tools. Ask employees how they want to be rewarded by having them complete a survey or our Tell Us About You form, free to download in the Recognition Resource Center. While a lot of employees may say they want cash rewards, it's not the most effective way to reinforce behaviors.
I recommend using note cards as your primary recognition tool. Handwritten notes are one of the most desired forms of recognition, and you can give it immediately after the behavior.
Step 3: Start recognizing!
You'll need to go out and look for recognition-worthy moments and make recognition a new discipline and habit. Set reminders on your calendar or use a calendar that will remind you to write notes or give recognition to your employees. Keep your recognition tools within sight, so you'll have a constant reminder to give recognition.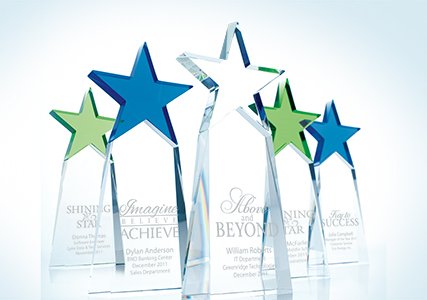 Start giving recognition with your own recognition program.
That's it! Follow these three steps, and you'll have a recognition program that will motivate, engage and retain your staff in no time!
Recognition Program Product Recommendations
If you're serious about starting a recognition program, I recommend a few of our exclusive Baudville tools that make recognition easy.
Cheers Kit

– All of the tools have room for a handwritten note and a memento for the recipient to keep.

Shout Outs

– Get the entire team involved with recognition and take some of the pressure off yourself with a peer-to-peer recognition program.

Peel and Stick Recognition

– It can't get any easier than this. Jot a quick note and stick this to just about anything for instant praise.
Cheers,
Brad Darooge
Baudville President and CEO