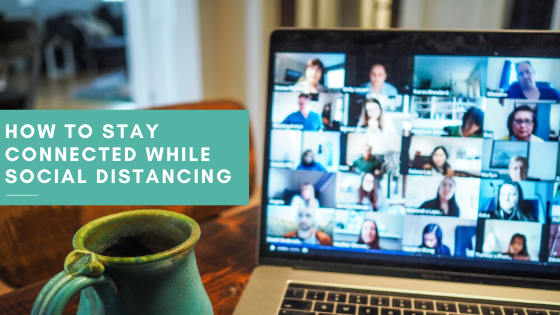 Don't Let Social Distancing Keep You Apart
As some of us slowly begin the transition back into the workplace, we're all feeling keenly aware of our surroundings. And even though we've become accustomed to wearing masks and maintaining six feet of distance, there's still a sense of unease and insecurity. But never before have relationships, team building and connectedness been so important.
"But," you ask, "How do we stay connected when we have to be apart?"
Here are a few tips to help elevate connectivity while still following social distancing guidelines and safety protocols:
Be a Leader
Keeping employees safe and making them FEEL safe as they return to work is vital to a successful business and is a direct reflection of leadership. Wouldn't it be great to welcome back your staff with figurative open arms? Maybe even give them the warm fuzzies when they walk through the door again?
Instituting positive, forward-thinking, engaged leadership in these times of uncertainty will help employees feel comforted. Make sure everyone knows that their health is a top priority; communicate openly; always listen to concerns and suggestions; be understanding of personal and professional needs; and constantly show your appreciation.
No Pressure Here
According to the Harvard Business Review, "anxiety is near-universal right now—a natural reaction to unnatural circumstances and an uncertain future." Reentry into the workplace is anxiety-ridden for many, so if "employers don't address these sources of anxiety and assist employees in managing their mental health, bringing people back to work will do little to help companies return to pre-COVID productivity and engagement levels."
So, first and foremost, explore safety/social distancing options with your employees—what makes one person comfortable isn't necessarily what makes another feel at ease. Keep meetings small and controlled, and be willing to shift your space around to promote distancing and a peaceful work environment. And always have masks/neck buffs and hand sanitizer close at hand.
Step Outside the Box
In an office setting, encourage the team to do things together—even at a distance. Chatting, reconnecting and having productive meetings can happen. Buy pre-made boxed lunches from a restaurant/caterer, deliver them to each employee's desk with one of these sweet treats, and take a lunch break together-apart.
For staff in customer-facing positions, give them new Personal Protective Equipment (PPE)(follow your state's guidelines), along with some other form of appreciation that doesn't directly relate to safety. Knowing you have empathy, and even a sense of humor, through this trying time will help them appreciate you in return.
Still have some remote workers out there? Bring them closer by sending a little something right to their doorstep. Far apart, but close at heart!
Spread Positivity; Not Germs
Protecting your most valuable asset—your employees—goes without saying. Be aware; read the room; gauge the temperature (and the literal temp too, of course). How is everyone feeling? And, despite social distancing, how can you spread positivity to create a welcoming environment for your crew?
An Inc. article by Bill Murphy Jr., states it best: "The less you can emphasize distance—and instead emphasize physical separation but social connection in your language—the better things might be for your employees.
And, the more you can encourage employees and others to do the things on the positive list—exercising, connecting with others, engaging in self-care and spirituality, and helping others—the better it can be for them (and by extension, for your business)."