We offer a free service on our website called ePraise which are recognition ecards you can send to coworkers, peers, or anyone you want to thank or recognize. We have over 110 different designs for birthdays, anniversaries, teachers, nurses, volunteers, and to simply say thanks.
Although writing a recognition ecard seems like a pretty simple thing to do, many of use don't do it. Why? We have every intention of typing one, but when the fingers touch the keys, we draw a blank. We have no idea what to say!
Here are a few simple tips that will help you type a recognition ecard that is meaningful, personal, and sincere: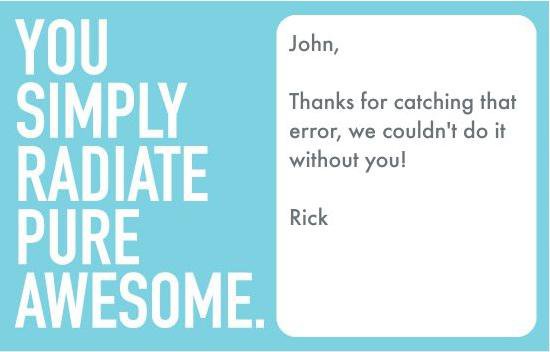 Sample ePraise recognition ecard.

1. Describe the action, behavior or result you are recognizing. Did you observe the person delivering excellent customer service? Did they provide a referral or a critical piece of information so that you could meet an important deadline? Did they help you out of a jam at the last minute? Be specific about what they did, not just "Thanks for a great job."
2. Explain why it is important to you or the organization. Did it help you achieve a goal or make your job easier? If possible, create the link between their behavior and the organization's values and mission.
3. Reflect back to the person. What is it about the way they did it? Talk about how their action reflects a personal quality of the giver, such as integrity, initiative, or follow through.

---------------
Cori is Baudville's in-house Recognitionista (she's officially a Certified Recognition Professional, too) and a member of the Millennial generation. Get her employee recognition tips and special discounts by liking Baudville on Facebook.