In a rare bout of late night TV watching, I saw Jimmy Fallon's thank you note skit for the first time Friday night. Apparently, it's a regular part of the Late Night Show (unknown to me since the show airs way past my bedtime) and pretty popular (it has its own Facebook page).
As a recognition specialist, I silently rejoiced as Jimmy wrote thank you notes to the Olympics. After all, if Jimmy Fallon thinks thank you notes are cool, hopefully managers and supervisors will jump on the bandwagon, too!
Again and again I hear stories from employees about how a simple note from a manager made an individual feel valued and appreciated. In one particularly memorable story, the individual received a letter of praise from the company's founder and president. It was a big deal because the company culture revolved around this person, his character and values. The employee framed the letter and still displays it at his desk, years later.
Friday is Employee Appreciation Day, and we've been talking about this holiday a lot around Baudville because we know it can have a big impact on how employees feel about their jobs and their employer. Celebrating Employee Appreciation Day doesn't have to be a large production. It simply needs to be sincere.
Take a lesson from Baudville (and Jimmy Fallon!) and write a thank you note to each of your employees for Employee Appreciation Day. Have all the cards waiting on their desks when they come in Friday. The surprise will make the appreciation memorable long after Employee Appreciation Day has past.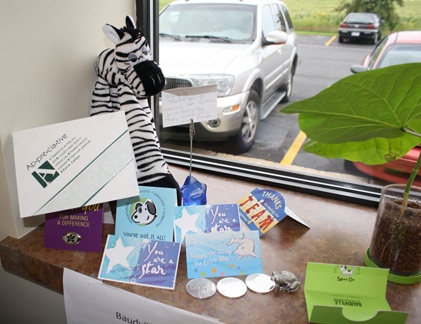 Give employees flair for their desks with your handwritten thank you notes.
-----
Cori is a Certified Recognition Professional at Baudville and a member of the Millennial generation. Get her daily Employee Appreciation Day tips and weekly deals by becoming a fan of Baudville on Facebook.