I have the key to a supply room in my office that is attached to a Baudville lanyard - Imagine Believe & Achieve. Each time I see it in the drawer or pull it out to use it – it makes me stop and think about the power in these three words. As I was mulling over possible content for this blog, I saw the lanyard. As Cori knows, writing is not one of my strengths but, she always has some encouraging words that inspire me to push through the challenge. I also know that I can count on her to correct my errors – did I forget to mention how great Teamwork is? It is amazing what a little belief can do for me – both belief in myself and the belief that others have in me.
I recently prepared material for a recognition training class for Baudville's management team. Along the way, it was an amazing reminder of how much leadership and recognition are intertwined. Simply put – Great leaders recognize. Leaders have a tremendous amount of influence on their followers – probably more than they know. They have the great honor and responsibility to mentor, guide, encourage and nurture their followers to levels of success and excellence that may be difficult to imagine.
I found studies that show that if we predict and believe that something will occur (good or bad), a person's behavior frequently changes to make that prediction more likely to happen. Test it out for yourself, believe, recognize and speak positively into someone's life on a consistent basis and watch the results. The best outcome of all is how you feel when you see the positive impact that you can make on that individual and their success. It's truly a Win-Win. It's fun to watch our employees put on their Recognition Glasses, search for the positive in others and post notes from Baudville's exclusive peer to peer daily recognition. We've definitely got some Positive Mojo going on here at Baudville. Join in the fun.
In closing, I must say, "Believe in yourself!" It all starts with imagination and a vision for the future. Let's hold on firmly to the picture of achievement in our mind and watch it become a reality. Imagine, Believe & Achieve - this is one of my favorite themes – it truly inspires me every time I see it. Although I absolutely love our new products that are cool, hip and contemporary, this theme will remain on my top 10 list for years to come.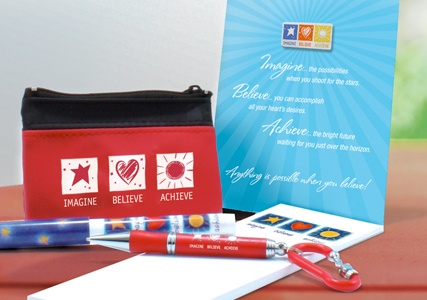 --------------------------
Cindy is the Human Resources Manager at Baudville and has over 14 years HR experience. In addition to her HR Generalist duties, she's the center of positive mojo for the company and heads up many of our recognition initiatives, events and awards. In other words, she's got it going on!