If you're a fan of Baudville's free downloads and eBooks, get excited! We've just released Team Up! It's an eBook of activity ideas that will energize employees and teams. Longtime Baudville friends will remember that we once sold a book by the same title. Since that book is no longer for sale, we decided to share the 60+ team activity ideas with all of you, for free!
The original Team Up! book was composed of six chapters covering activities for recognition, teams, customer service, milestones, ice breakers, and energizers. There are great ideas in every chapter! Because there was so much in this book, we decided to make it available for download by chapter. That way, you can download just the activities you're interested in. Right now, you can download the chapters on recognition, teams, and customer service. The remaining three chapters will be available in early February.
Why should you download the Team Up! eBook? Each activity was submitted by a recognition practitioner or professional who used the activity themselves and claimed it a "winner." It's like asking 60 of your closest colleagues for team activity ideas for a meeting or special event.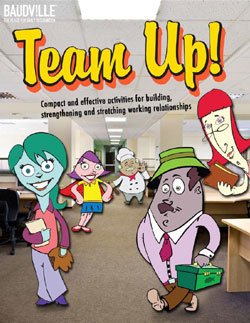 If you like the Team Up! eBook, be sure to check out our newly renovated Recognition Resource Center for even more recognition eBooks and downloads that are available absolutely free.
Want to see more free employee recognition eBooks? Share your ideas for a future eBook topic here!

------------------------------
Cori is Baudville's in-house Recognitionista (she's officially a Certified Recognition Professional, too) and a member of the Millennial generation. Get her employee recognition tips and special discounts by liking Baudville on Facebook.