In Michigan, though we never seem to fall short of ways to joke about the weather fluctuations, we can usually count on January to be consistently cold and snowy. Yet, somehow, the thermometer has peaked at nearly 50 degrees several days this week. The forecast for the rest of the week? Between 8-10 inches of the fluffy white stuff! There's nothing like the unpredictable to overcomplicate getting dressed for the work day—as well as our commute to start or end the day.

It's definitely nice to have options when Mother Nature throws a curve ball, and my co-workers and I are really happy that we've earned new Take a Casual Day and Take a Free Hour tokens that we can cash in for just these occasions. (In anticipation, I'm using one of mine today, by the way!)

These new products are part of our new Token Super Bundle that was designed with save and redeem employee recognition programs in mind.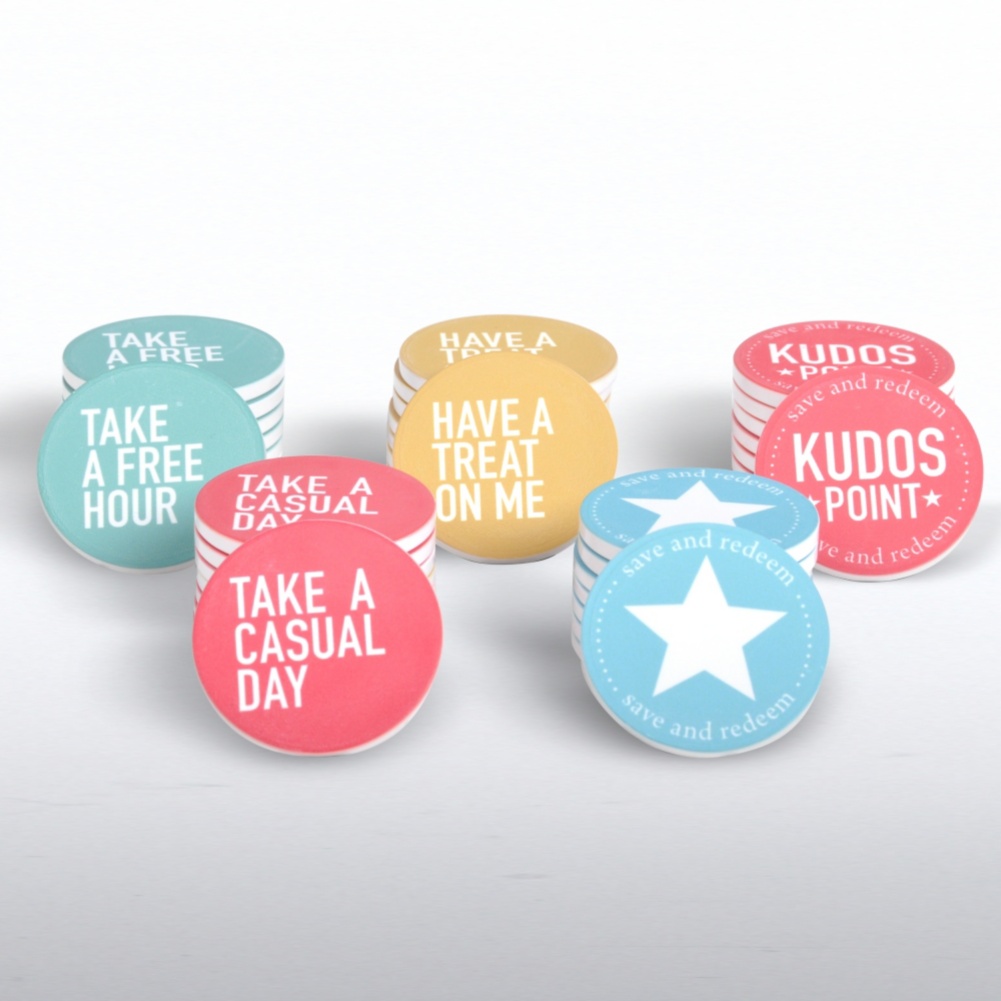 Here's what's in the bundle and what you can do with them:

Star and Kudos Point Tokens: Hand out these tokens on the spot when you see everyday greatness in action. These are meant to be casual forms of recognition, so think small: maybe James helped Laura fix a paper jam just in time to get her printout for an important meeting. Or, Melissa stayed late one evening to finish a project.
Employees can collect them to cash in for prizes of your choosing, or save and redeem them for other tokens in the bundle, like:

Take a Casual Day and Take a Free Hour Tokens: What's better than a low cost employee reward that has a really high value to the members of your team? In a bundle, tokens are just under $1.25 each and the rewards themselves cost you little or nothing. Use them in conjunction with the other tokens, or on their own for bigger recognition moments. But, remember, they're still informal for day-to-day, so don't wait until someone solves world peace to give one out!

Have a Treat on Me Tokens: I like these tokens for giving your employees a little face time. When you award one of these tokens, make it special by doing something as simple as having a nice chat with your team member as you walk to the vending machine. Or, make it more official by setting up a time to take a short coffee or snack break together. They'll enjoy the free treat as well as the personal one-on-one time that shows you care. Plus, who doesn't need a warm bevvie to perk up the day? (Especially us Michiganders!)

If you're looking for small, affordable ways to engage your team and motivate them to go above and beyond, Tokens of Appreciation are your ticket. Incorporate them into a save and redeem program to create an added incentive and you'll see everyone stepping up their game!
--------------------------

Allison is a self-proclaimed Copywriting Diva and has the certificate to prove it! She's been writing for Baudville for three years and has worked in a variety of business settings for more than 18 years. Before becoming a professional writer 11 years ago, Allison worked as a department manager where she used Baudville products to motivate her team. She's what we call a true believer!