Back in 2009, Baudville decided it was time to re-invent itself. We hired a consulting firm who redesigned our logo, our color scheme, the look and feel of our marketing materials, and the tone of our messaging. As I write this, I feel like I'm revealing the man behind the curtain; but, hey, we're all business people here and we know that this is what happens in the corporate world. Meijer did it. JCPenney did it. We did it.
This was an incredibly exciting time for everyone in the creative group, including me, a very recent hire. Our big reveal was going to be at the Society for Human Resources Management (SHRM) Annual Conference and Expo in July of that year, and between January and that date, huge amounts of time and energy and resources went into making it the shindig of all shindigs.

That was the year that our now-famous Baudville T-Shirts made the scene as well, and, like everything else we did, it was a team effort to write the witty sayings that emblazoned each shirt back.

Fast forward to 2012 and we're on our fourth iteration of our team's tees. Being the copywriter, I'm the one who is supposed to responsible for them these days; but I have to tell you: after fishing from the same pond for several years, all I've managed to catch from my own brain are an old tire, a rusty hanger, and something that looks like it was once a toy truck.

I knew I was going to need some help, so I enlisted a group of some of the most talented people I know: the Baudvillians! But the thing about Baudvillians is that they like to compete and they're in it to win it. So, I couldn't just schedule a brainstorming meeting; I had to challenge them with a contest and, of course, the opportunity to win prizes.

For about a week, I accepted ideas from everyone: on paper, via email, shouted at me from across the lunch room… and I ended up with more than 100 individual sayings by the end of the day Friday.

I worked with my immediate team to narrow them down, and was happy to announce winners from almost every department in our company. How cool is that?

Here are our contest winners: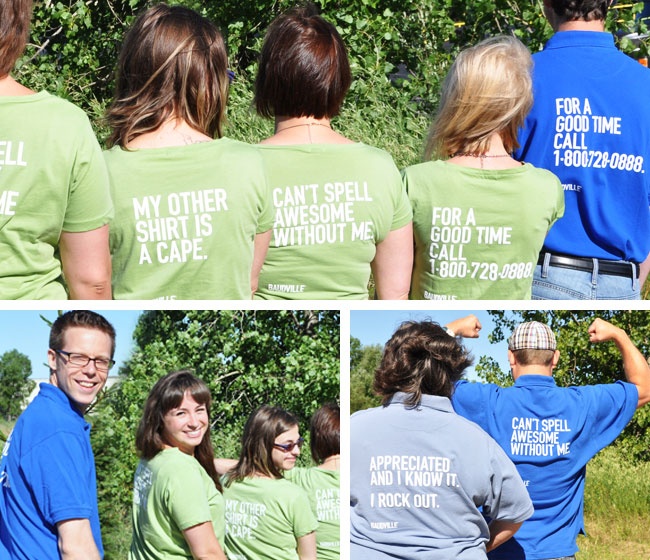 In addition to other glamorous prizes, they got to choose a favorite shirt from the winning mix. As you can see, some were really popular!
Their shirt ideas are being sported RIGHT NOW by our team at SHRM in Atlanta, Georgia! You can follow all the hoopla happening there on Facebook and Twitter now through June 27!
Do you have a favorite shirt from this year? Or a favorite way to engage your team in company activities? Tell us about it!
--------------------------

Allison is a self-proclaimed Copywriting Diva and has the certificate to prove it! She's been writing for Baudville for three years and has worked in a variety of business settings for more than 18 years. Before becoming a professional writer 11 years ago, Allison worked as a department manager where she used Baudville products to motivate her team. She's what we call a true believer!