While I was in the midst of researching/writing an article about social media for our latest RecogNation , I paused and realized that I was getting into some pretty deep water. I sent out an S.O.S. and our HR Manager, Cindy, kindly threw me a lifeline. We chatted for a bit and, to my relief, she pointed me in the direction of some resources to help me reach a conclusion. Thanks, Cindy!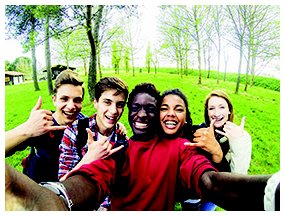 The funny thing about that conclusion is that when it comes to social media/networking in the workplace, there really isn't one. In an ever-changing landscape sprouting with new tools and technology vehicles, plus a constant evolution of legalities on social media policies, the best answer is to keep up and respond accordingly. Whatever you do, don't stay in 2008!
Want to learn more? Read the RecogNation article: "Is Social Networking Not Working for You?"
Stay tuned: I'll have more on my internal collaborations tomorrow!

Want to make sure you never miss a post? Sign up to receive the Baudville Blog right in your inbox!
--------------------------
Allison is currently living out the elaborate fantasy she described to her now-former staff and colleagues in early 2001. With a hearty dose of courage and absolutely no plan of action, she abruptly left her middle-management job to become a writer—and today she is doing just that in her role as Baudville's Senior Content Writer. She's here to tell you everything she's learned in her 20-years+ professional life, plus a lot more. She's wordy like that!