I have a couple of co-workers who rarely check their email. For those of us who rely on email to convey information to the rest of our team, this is really annoying. This forces us to get out of our chairs, walk 12 steps over to their cube (they share a workspace—hmmm, maybe there is something in the air over there…?), and have a conversation with them.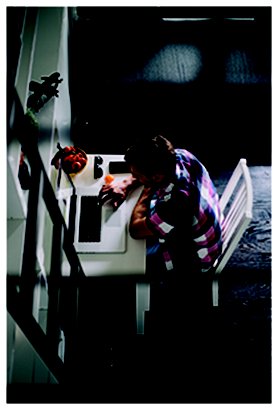 As a writer, I've become heavily dependent on typing words, rather than speaking them. There's a permanence there, as well as the ability to edit and re-edit until the message is perfect. I like that. In verbal communication I can make all manner of mistakes, including cramming my foot in my mouth or creating the longest awkward silence imaginable. For me, email is a crutch. For these two co-workers, it is a burden.
Why is that, and why don't they check their email, especially knowing the rest of us really want them to? Have they gotten wise to the concept of keeping work distractions at bay? (FYI: I just stopped writing because I got an alert that a new message had arrived. I checked it. It was from Harvard Business Review. I'll read that later. Now, what was I saying…? Oh, right.) Or are they too busy to be bothered? Or are they deliberately trying to force real conversations? Or is it something else?
Whatever it is, they are half right, and those on the email dependence side are half right, too. There are times when an email is the most practical method of conveying information (think: setting up a meeting between several parties or sending out a company-wide memo) and there are other times when picking up the phone or taking a walk are not only incredibly efficient, they also prevent misunderstandings.
In our current issue of RecogNation, we talk about 21st World Problems like this, and, delve into this topic more in the article "Is the Speed of Email Slowing You Down?" Click here to read it now!
Hey! Your Inbox Called: It Needs Some Love… Sign up for the Baudville blog and you'll get awesomeness like this delivered daily!
--------------------------
Allison is currently living out the elaborate fantasy she described to her now-former staff and colleagues in early 2001. With a hearty dose of courage and absolutely no plan of action, she abruptly left her middle-management job to become a writer—and today she is doing just that in her role as Baudville's Senior Content Writer. She's here to tell you everything she's learned in her 20-years+ professional life, plus a lot more. She's wordy like that!