It's about that time... back to school. While my kids are complaining about heading back to class, I'm rejoicing that we're getting back into a routine! It's quite the paradox – I can't wait for school to get out for the summer and then 6 weeks later I am eagerly awaiting the first day of school. Any other moms with me? I know I can't be alone in this.

My other secret? I love to shop. And back to school means back-to-school shopping! Is there anything better than a new back pack, a fresh set of markers, clean folders, and blank notebooks? Absolutely not! I love it all. I love looking at the new styles and trends. The fluorescents are back in style and I couldn't be happier! My boys don't get nearly as excited as they should about squeaky clean new shoes, bold markers, classic markers, or scented pens.

You know who does share my love of new school supplies? TEACHERS.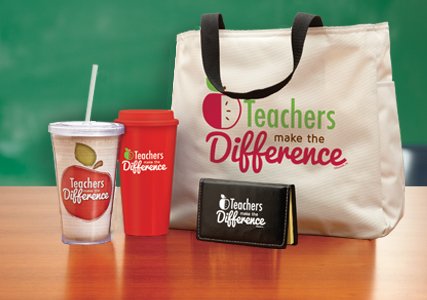 Teachers usually supply a list of classroom needs at the beginning of the year and I love to supply a few extra items for the room, or a gift certificate to the local office supplies store. I like to put the supplies in a Teacher's Rock tote bag, or the gift card in a travel mug as a nice welcome back to school gift for my kid's teachers.

Back to school also means back to...LUNCHES. Now this is a part of school that I HATE. I dread making lunches. To add a little pep to my step in regards to school lunches, I like to purchase a pack of Peel & Stick Notes at the beginning of the year. These make adding quick little notes to my kids' lunches fun and easy! I once found one of my notes taped in my son's desk – so precious and so worth the time and money spent!

What are your favorite back-to-school tips? Do you love it or dread it? Share your thoughts and ideas with me! I'd love to hear them.

--------------------------

As a team member since 2005, Falon has worn just about every hat the 'ville has to offer. She's seen both sides of working life — as an employee and as a manager — so if it sounds like she knows what she's talking about, we're pretty sure that's why. When she's not juggling between the IDville and Baudville brands, she's been known to whip up a mean diorama - just like that!