March is a crazy month for our family. It's my husband's, mother-in-law's, and oldest son's birthday month and, let's not forget, the best time of the year to watch basketball. I'm not a huge basketball fan, but my alma mater is Michigan State, so I love to watch them in this tournament and see how well they do! Very exciting times and, of course, we have to plan everything around watching the games—food has to be game food and the drinks have to be flowing as we watch all of our tournament brackets blow up game after game.

Then, what else comes into play? Dessert. As you could guess, with three different people celebrating their birthday, they of course all want their own special treat. We also have cake lovers and cake haters in the family, so here's how it went down...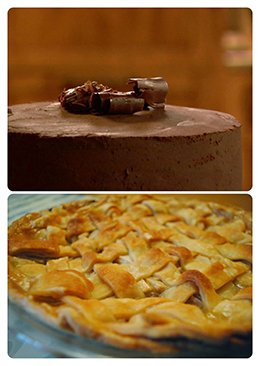 My mother-in-law requested a decadent chocolate cake that she devoured one day when she was helping out with the kids a few months ago. I had had some leftover cake on the counter that didn't have any frosting on it and when we came home she admitted that she'd been eating the cake and she was like, "Oh wow that cake is so good!" So, chocolate cake for the cake lover.

My husband, on the other hand, not so much of a cake lover, so he requested an Apple Pie. A good standby, and loved by most (except our very own Falon, who can't stand warm, cooked fruits—so crazy). I've made several of these in my life, but for some reason, I don't have a go-to recipe. Therefore, I used a new one that I had pinned awhile back. Oh wow, it turned out beautiful (the picture here is of the actual pie I made). I did use the Granny Smith apples as the recipe called for, but I didn't care for the tartness; my husband loved it, so I guess that's all that really mattered.

My son, being the almost-big 10-year old, said he'd wait until his actual birthday for his special treat, so I'll be making red velvet cake tomorrow for him. Not with cream cheese frosting, it's got to be classic white frosting. Heaven forbid.

All in all, another year of successful pie vs. cake. Everybody was happy and tummies were full. It's a win-win. Let me know how it turns out if you try out any of these recipes!