Each year thousands of people across the nation raise awareness and support women and breast cancer research throughout the month of October by wearing pink, donating their time and money to breast cancer foundations, or participating in fundraising events. It goes without saying (but I am going to say it anyway), that I am proud to be part of a nation that values supporting one another and raising awareness for such important causes!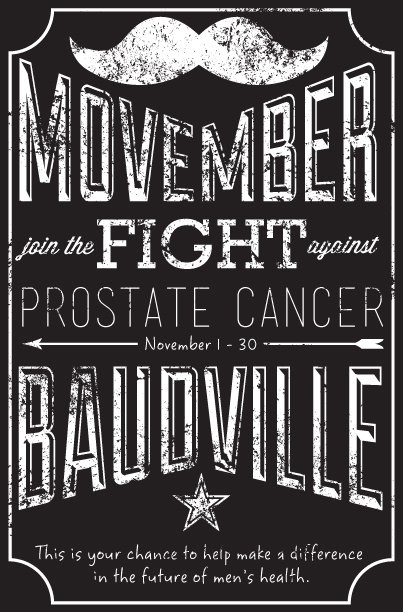 With October behind us, now it's time to show our support for MEN! Our team at Baudville has joined with thousands of men (and women) all around the world by participating in the celebration of MOVEMBER! What is Movember (pronounced MO-vember), you ask? Read an excerpt from the source below for more details or check out www.MOVEMBER.com
"During November each year, Movember is responsible for the sprouting of moustaches on thousands of men's faces, in the US and around the world. With their Mo's, these men raise vital awareness and funds for men's health issues, specifically prostate and testicular cancer initiatives. Men start Movember 1st clean shaven. For the rest of the month, these selfless and generous men, known as Mo Bros, groom, trim and wax their way into the annals of fine moustachery. Mo Bros effectively become walking, talking billboards for the 30 days of November. Through their actions and words they raise awareness by prompting private and public conversation around the often ignored issue of men's health."
So it's pretty easy to see how men can get involved in this campaign to raise awareness for men's health, but how do the ladies make a difference? With their support! The Mo Sistas pledge to support the Mo Bros throughout all of Movember – after all, growing that moustache can be hard work!
Here's how we're sprouting 'staches, and supporting the cause at Baudville:
- Each man participating came clean-shaven on Movember 1st with a donation of $5.
- Men who were already blessed with a hairy face could commit to not shaving for 30 days with a $10 donation.
- Men, women, and anyone else who wanted to support the cause, came ready to acknowledge a man in their life or support a Baudville 'stache participant with a $10 donation.
- Baudville will match all employee donations, with all proceeds going to a local cancer-focused charitable organization.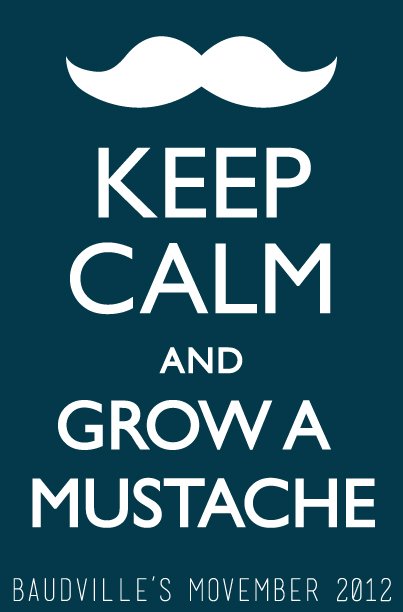 All participants received 5 (that's one whole work week around here!) casual days to be used in the month of Movember. Every Friday in Movember we will hold a fun activity – and photo op to gauge our facial progress – check out our Facebook page for more! Our grand finale will be held on November 30th. Cash and prizes will go to participants and supporters alike – although super extra-credit will go to Baudville's best and worst moustaches!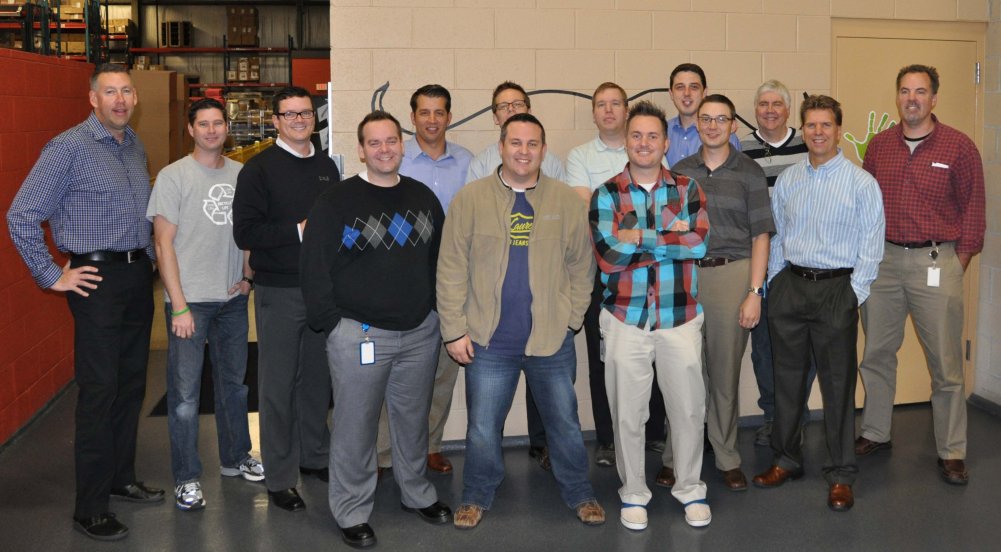 Our committed team of stache-ers, raising some CASH and making a difference in the future of men's health. Fellas, may the 'stache be with you…
------------------------------------------------------------------------
Brad Darooge is President and CEO of Baudville and a positive mojo aficionado. He brings the positive mojo to work every day along with his bike. In addition to leading Baudville, Brad is also an amateur triathlete.