Peer-to-peer recognition is a growing trend in companies looking for ways to increase engagement and morale without over burdening managers. In WorldatWork's 2008 survey, Trends in Employee Recognition, they discovered that 42% of the 554 companies that responded offer peer programs. Of those, 67 percent stated the program's impact on retention was moderate or high. Human Resource Executive also recently wrote an article on the Power of Peer-to-Peer.
Peer-to-peer recognition is popping up everywhere. Do you want to learn more about peer recognition programs and their potential impact on your organization?
Join me next week as I talk with Cori about the Peer-to-peer recognition program we have at Baudville. I'll also provide guidelines and ideas for you to create your own peer recognition program!
Register for our Recognition TV Webisode taking place next week Thursday, October 21. The webisode is only 15 minutes, so it's less like a webinar and more like a coffee break with a couple of friends! Our webisodes are live streaming video, and you have the opportunity to ask us questions in real time through a chat room, so bring all your peer-to-peer recognition questions with you!
You can also watch past Recognition TV Webisodes in our Recognition Resource Center for helpful tips on appreciation events, starting a recognition program and more.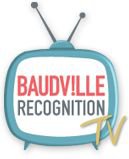 I look forward to seeing you on Thursday!
------------
Cindy is the Human Resources Manager at Baudville and has over 14 years HR experience. In addition to her HR Generalist duties, she's the center of positive mojo for the company and heads up many of our recognition initiatives, events and awards. In other words, she's got it going on!