When I applied for this job at Baudville, it would have been an understatement to say that I REALLY wanted it. It wasn't just that my current job was sucking the life out of me; it was more that I felt like this was THE job. If it wasn't this, I honestly couldn't imagine what it could possibly be. But as badly as I wanted the job, there was actually a "deal killer" for me—they couldn't have a strict dress code.

The aversion goes years back to when I worked in a corporate job where the dress code was extremely conservative. I thoroughly hated that we were required to always wear hosiery and closed-toed, closed-heeled shoes. In Michigan winters, this isn't really a problem; but in the middle of August it is. And, for someone with a disturbing number of shoes, the footwear limitations were unbearable. When I got out of there, I vowed I'd never do it again.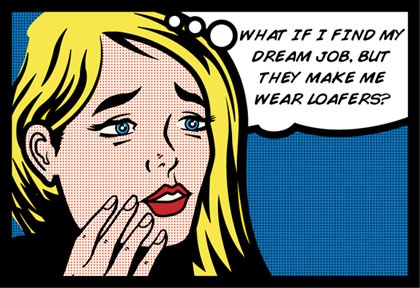 Well, I'm happy to report that Baudville maintains a corporate casual dress code, with jeans allowed every other Friday. That's casual enough for me! And, if you interpret the dress code rules the way I do, then just about anything goes when it comes to shoes (except where safety is concerned, of course). This is good news for adequate rotation of my collection!

I've shared this fascinating story with you to make a point about how little things like dress code can make a big difference in employee morale. Studies show that most employees prefer a casual dress code over a formal one. It allows more freedom—including freedom of expression—and helps even the playing field for those who simply can't afford formal business attire. I've also read that in addition to improving morale, it can give employers a competitive edge in attracting (and maintaining) talent.

There has been buzz around the 'ville that we may go totally casual, but I have a theory that we never will for one big reason: casual days are used as rewards. When teams finish a big project or reach a goal, they get awarded a casual day. People look forward to the possibility, and with the absence of that option, the company would lose a 100% free (not to mention fat free) way to reward us. To some, it may seem like a minor perk, but I can truly feel a different vibe on impromptu casual days and casual Fridays. Baudville has seen enough of this positive mojo to know that it works, too.

If you're not already wearing jeans every day, then think about using casual days to reward for your staff or raise morale around the office. These coupons are a fun way to do it: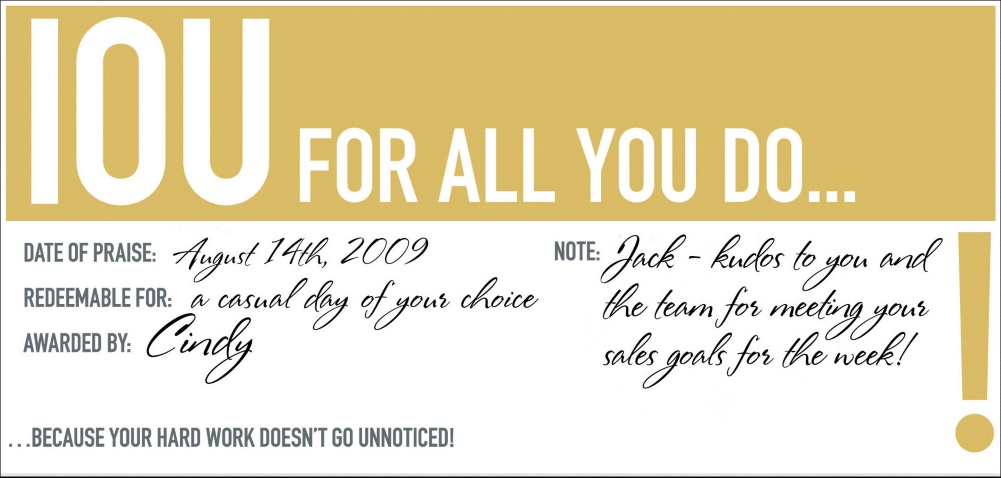 Need other ways to affordably recognize your team for everyday wins? Try our Recognition Systems!