First and foremost, thank you to all of our brave military troops for serving to protect our country. This holiday weekend commemorates those men and women who died while in the military service and we appreciate all that they did for our country. We celebrate you all this weekend.

In that celebration, Kimberly's Kitchen is going to be in full swing for the weekend. I have two parties to go to and I am in need of two dishes to pass.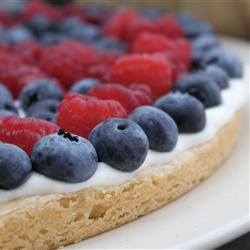 One of my favorite sweet dishes for groups of people is a Fruit Pizza. This recipe is easy and it also allows you to take on the Red, White and Blue color scheme with strawberries, raspberries and blueberries – which is always nice for Memorial Day celebrations. Don't forget your co-workers either, if you're feeling a little extra love, make two of these and bring one to the office. While you may not be a country hero, you'll sure be one at the office!

This particular recipe calls for a homemade cookie dough (which is helpful for those with food allergies). However, if you don't have to, by all means grab a tube of Pillsbury sugar cookie pre-made dough; it makes the recipe even easier!

Also, read Jenny's post for some additional ideas on how to celebrate this Memorial Day weekend.

Enjoy and make sure to check out the Kimberly's Kitchen Pinterest Board for more yummy recipes!

--------------------------

Kimberly is the Baudville Website Manager and star of our online product videos. She applies her knowledge of the web to create the ultimate online experience for Baudville customers.