Thanksgiving is coming up fast and I'm sure many of you are organizing office potlucks to kick off the holiday season. The holidays are the perfect time to get your team together, celebrate the year's accomplishments, and thank everyone for all they've done. A potluck is a great way to kick that recognition and camaraderie into full swing!

So if you aren't planning one yet, think about starting an annual holiday potluck to get the office rejuvenated during a time when people are getting antsy about the holidays, but also to take a breather and enjoy co-workers' company.

Make sure to create a signup sheet so you know how many people will be bringing something and that you don't end up with all the same stuff! You can also go to a free online tool like, SignUp Genius, to help you create the online sign up form, email your co-workers, and track what everyone's bringing. Very handy!
I don't know about you, but I always struggle with what to bring to potlucks. You want something you can make the night before, that's easy to transport, and doesn't have a lot of fuss. One of my favorite items to bring is a cheese ball, and it's always a hit. It's so easy – just whip it up the night before, and bring it to the potluck. No muss, no fuss. And it's so delicious!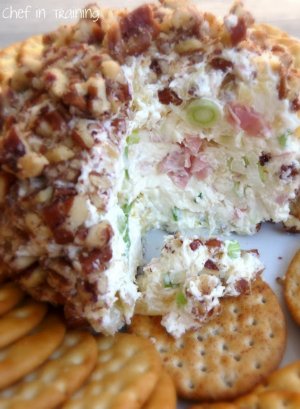 PINEAPPLE CHEESE BALL

1-1/2 packages (12 oz) cream cheese
1 small can crushed pineapple (well drained)
Powdered sugar (to taste- approximately 2-3 Tbsp.)
Green onion (optional-to taste, approximately 2 Tbsp.)
Chopped ham (optional-to taste, approximately 2-3 Tbsp. I used deli meat ham)
Chopped pecans (about 1 cup worth)

Combine all ingredients together. Mash into a ball and chill. Roll in crushed pecans. Refrigerate until served. Serve with crackers.

Recipe courtesy of chef in training.

--------------------------

Kimberly is the Baudville Website Manager and star of our online product videos. She applies her knowledge of the web to create the ultimate online experience for Baudville customers.