I just returned from a vacation in Budapest, Hungary, where there was very little that wasn't completely foreign to me. The language. The currency. The landscape. Really, pretty much everything.

After hiking to the top of Gellert Hill on day three, we were met with colossal monuments, a breathtaking panorama of the Buda and Pest cityscapes split by the Danube River, and a humbling military fortress, complete with rows of artillery cannons. Yep, we definitely weren't in Michigan anymore.

The unknown certainly sets the stage for great adventure; but there comes a point when it doesn't hurt to encounter something familiar as well. So, imagine my delight (I may have squealed) when we rounded the Citadella's main façade and bumped into this: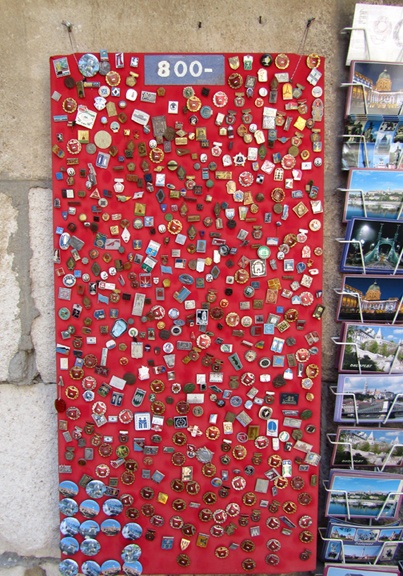 My friends giggled as I insisted on taking a photo of this lapel pin display; but little did they know how close to home I suddenly felt. Or, my home away from home that is: the 'ville.

As I basked in my warm fuzzy moment, I also felt a deep thought coming on: that in a culture that seemed so dramatically different from my own, there was common ground in something as simple as a lapel pin.

In any setting—not just a military one—lapel pins portray honor and accomplishment. They're a badge to be worn with pride and prestige. That's why they remain one of our most popular recognition rewards. And, apparently, our Hungarian friends feel the same way!

We don't have one of the Magyar flag (yet); but we do have an out-of-this-world variety of exclusively-designed lapel pins for just about any occasion. Plus, we offer custom lapel pins, so if you can dream it up, we can probably do it.

And, here's a little secret: our designers are currently working on a whole new batch of lapel pins. So, stay tuned!
--------------------------

Allison is a self-proclaimed Copywriting Diva and has the certificate to prove it! She's been writing for Baudville for two and a half years and has worked in a variety of business settings for more than 17 years. Before becoming a professional writer 10 years ago, Allison worked as a department manager where she used Baudville products to motivate her team. She's what we call a true believer!