Lapel pins are a traditional element of an employee recognition program. They're often used to commemorate years of service, retirement, and major awards. In today's technology driven world, it may come as a surprise that lapel pins are still a popular and desired form of recognition.
Lapel pins remain an effective employee recognition award because the recipient has a lasting and displayable memento of the recognition moment. The lapel pin acts as a mini-trophy that the recipient and show off to co-workers, customers, and even family members.
In my experience working with our customers, it's obvious that lapel pins are a source of pride for the recipient. A pin can represent a significant achievement, like years of service, or demonstrate commitment to a cause, like volunteer appreciation.
We've worked with several companies to create custom lapel pin collect-and-display programs. You can read about Esurance's program that recognizes associates for learning new skills in our Recognition Resource Center.
You can incorporate lapel pins into your employee recognition program to help gain management buy-in, too. Thanks to their low cost, lapel pins are a viable option for any organization!
Lapel pins are so popular, in fact, that we have just released over 30 new designs! All the new designs are exclusive to Baudville and available on our website. One of our new favorites in our lapel pin collection are the new LED lapel pins. Available in three themes, LED lights in the pins blink to draw special attention to the recipient.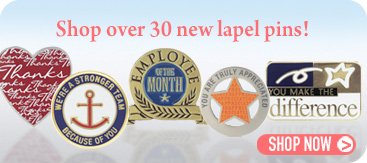 There are lots of ways to incorporate lapel pins into your recognition program. Some of the most common uses for lapel pin recognition are:
- Recognize perfect attendance
- Honor years of service
- Provide on-the-spot recognition
- Volunteer appreciation
- Create a collect-and-display recognition program
- Give special recognition on someone's birthday
- Present an affordable award with Character Pins
- Celebrate team accomplishments
- Recognize safety

How do you use lapel pins in your recognition program?