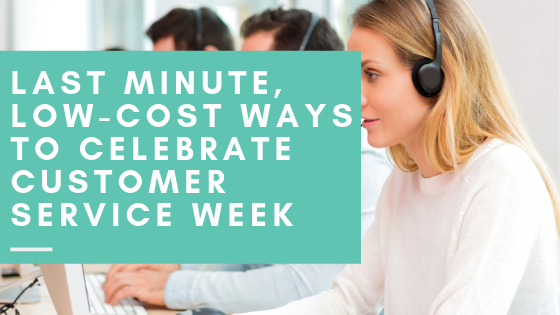 Customer Service Week is celebrated on the first full week of October, which means it's literally around the corner. If you haven't had a chance to plan appreciative events for your Customer Service team, don't fret. Here are a few last minute, low-cost Customer Service Week ideas.
Last Minute, Low-Cost Customer Service Week Ideas
Bring in Donuts
Donuts are always appreciated. Pick up a fresh batch of donuts one morning so your team can have a sweet start to the day!
Take Them to Happy Hour
Take your team to happy hour and enjoy a drink in honor of all their hard work! If you can't have your team scoot away from their desks early, bring the happy hour to them! You can enjoy a few of these mocktail recipes in the office.
All-Day Snack Cart
Set up a snack cart that you push around in the department throughout the day. Load it up with healthy snacks to keep your customer service team fueled but don't forget to provide a sweet treat or two since your team deserves it! Snacks can change throughout the day, so they are surprised with a new selection each time the cart comes around!
Handwritten Note of Thanks
It's hard to beat a note of thanks. Write a personal message to each team member to highlight their personal achievements and show appreciation for their specific contributions. This form of recognition will have them feeling more than appreciated but valued!
ePraise
Sending a note of thanks to their inbox is another way you can share your personal appreciation for them! Free ePraise is a great way to show your appreciation and make their day. Choose an eCard you like, write your message, and hit send!
Value Gifts - Perfect for the Whole Team
Get your Customer Service team a little something that doesn't break the bank like these Customer Service Week gift ideas:
Extra Day Off
Add an extra day to their vacation. Who doesn't love time off? Make sure you work this out with HR first though!
Paper Plate Award Ceremony
Have a little fun with your recognition by hosting a mock award ceremony where everyone gets an award that matches their personality. For example, you could give the "Office Parent" award to the person who is always taking care of everyone else. Write these awards on paper plates and present them in front of the whole team. Everyone will feel special and they'll get a few laughs out of it as well!
If you'd prefer to not DIY this, you could go the classic route and present these awards on certificates!
Department Week-Long Potluck
Ask team members from other departments to throw them lunch each day. Your Customer Service team won't have to worry about lunch for a week! It's also a great way to encourage peers to recognize them for all the work they do!
More Fun Reads on Customer Service Week
Prepping for Customer Service Week
National Customer Service Week [The Lowdown]

For more #makingworkhappy ideas and inspiration, follow our blog!