Before I came to work at Baudville, I will have to admit that my volunteer experience was dismal. I had always fallen back on the excuse that I was too busy or just filled my weekend with other plans, as I am sure most of us are guilty of.
However, Baudville has truly changed my outlook on volunteering. It is wonderful to be a part of a company that prides itself on giving back to the local community. Last year, the Baudville Team had a chance to help build a sensory riding trail for the Equest Center for Theraputic Riding. The Equest Center is a local nonprofit whose goal is to improve the lives of individuals with special needs through the power of the horse. I encourage you to read the testimonials of the parents and children of the Equest Center, but fair warning, have your tissues ready!
Each and every employee was given a chance to volunteer at Equest to help build the sensory trail. There was a lot of root pulling, hole digging, raking, paving, and many other tasks required to get this trail ready for riding. However, I think I am speaking for most of us here at the 'ville when I say it was exhausting, but the outcome was so worth it! Watching kids be able to ride on the trail we paved for them and get such joy out of it provided instant gratification.
More recently, we have partnered with another local nonprofit, the Conductive Learning Center. CLC is an educational program for children with motor disabilities such as cerebral palsy or spina bifida. CLC helps children living with these disabilities gain independence to perform every day activities that we take for granted being able to do, like dress ourselves or brush our teeth.
Baudville has become part of Team CLC for the 5/3 Riverbank Run and has paid the entry fees for all 30 of our voluntary runners. Each runner is collecting pledges for CLC's "Champion a Child" scholarship fund, allowing even more children to experience the life-changing Conductive Education program. Baudville employees can also purchase casual days for the month of April, with 100% of the proceeds going to CLC. I was so inspired, I decided to challenge myself to run the 25k this year as part of Team Baudville on behalf of Team CLC!
Volunteering time, training, and a little bit of cash towards these organizations has given me an incredible amount of respect to people who spend their time volunteering for organizations that are close to their heart. Those who spend most of their weekends and time after work to give back to the community need to be recognized for all of their hard work and dedication! April 6-12 is National Volunteer Week so be sure to say thank you to those you know who take time out of their day to make a difference in someone's life! At the very least, take some time out of your busy schedule to volunteer for an organization that inspires you! I promise, it's worth it!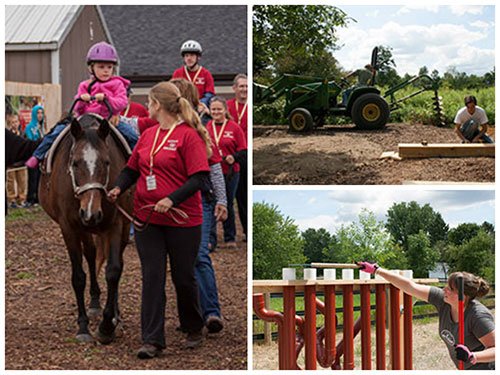 --------------------------

Krista is the 'ville's Web Marketing Coordinator. She came to us in 2012 as part of our stellar Sales team. Using her experience with Baudville customers, she helps create an online experience we're sure you will enjoy! Being the chatterbox she is, she truly misses talking with all of you so don't be shy and drop her a line!