Almost a year ago to this day, I woke up at 5:00 in the morning in more pain than I've ever felt in my life. As I writhed and cursed the black bean burrito I'd eaten the night before, it became evident that I was headed to the emergency room.

A few hours later, I was basking in the bright, sterile glow that comes after three IV injections of painkillers and the peace of mind that there was nothing serious wrong with me.

It was in this lucid state, with nurses, doctors, and technicians all bustling around me, that I had the foresight to ask someone what the hospital was planning to do for National Nurses Week. I wished for pen and paper and braced myself for the onslaught of useful information I would receive that I could share with my coworkers when I returned to work. Instead, what I heard was, "nothing, really."

What?!

I couldn't have been more shocked. Had it not been for the expert and attentive care of these professionals, I would…well, I don't know what I would have done. I was in remarkable pain. And they took care of me with concern, immediacy, and total effectiveness. At the time it seemed like a miracle. And, therefore, a travesty that these individuals would not receive recognition during a week that's dedicated solely to them.

Every day, people like me (and those much worse off) rely on nurses and healthcare professionals to make it all better. And, more often than not, they do. Or at least, they do everything in their power to try. The most amazing part is that they often do so after a double shift or while doing five other things at once—all while employing the educated and critical mind required to deal with life or death situations.

Nursing is often called a thankless profession. I can't think of a better time than National Nurses Week to turn that around!

We've got a unique Stethoscope We Appreciate You theme that makes it easy (and affordable!) to thank these compassionate and dedicated individuals.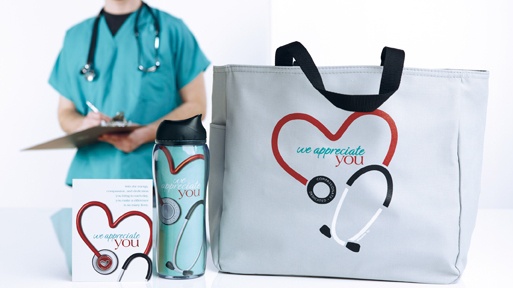 On-the-go medical professionals will appreciate these useful gifts that give them a constant reminder of your gratitude! Check out the entire collection here.