One of our staff's favorite parts of Customer Service Week is the fact that it lasts all week. Our Spirit Team plans an activity and has communication for each day of the week, and we usually get to dress casual all week, too. It's great!
Doing something each day of Customer Service Week is one of our team's best practices for making the recognition holiday memorable. The regular contact with staff throughout the week reminds everyone of how much their role in the customer experience is appreciated.
If you're interested in following our best practices for Customer Service Week, here are some ideas for activities you can do each day of the week:
 Monday - Write a personal note to each employee and have it waiting for them on their desk when they get to work in the morning. The My Boss Thinks I'm Kind of a Big Deal Pocket Praise are my favorite for Customer Service Week, but you could also use Cheers Notes or Marks of Appreciation.
 Tuesday – Challenge your team's skills during Customer Service Week with an activity or game. You can create puzzles for employees to complete at their desk, or host a bean bag or ladder golf mini-tournament. It's easy to bring in a lawn game for an activity, and you can probably borrow one from an employee. Have small prizes on hand for the winners.
 Wednesday – One of the most popular Customer Service Week activities at Baudville is a mid-week snack. It's a great way to get people over the hump of the week, and you can affordably give everyone a small pick me up. Create a snack basket with individually wrapped treats like cookies, fruit snacks, nuts, chips, pretzels and candy bars. Everyone gets to enjoy the treat of their choice and munch happily at their desk.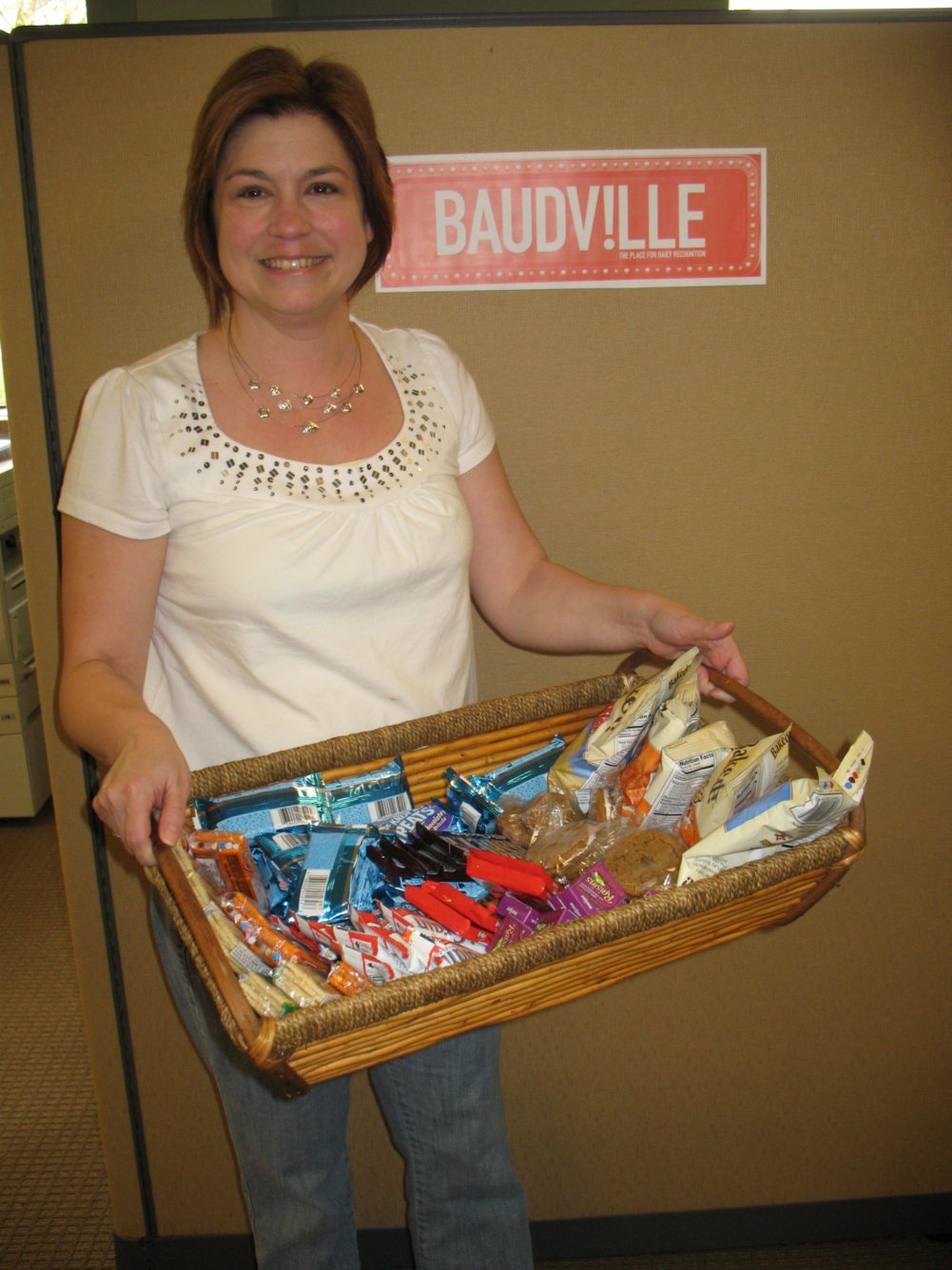 Our Customer Service Supervisor with a sample Snack Basket!
 Thursday – Give employees a Customer Service Week gift to help them remember the festivities. Your gift can be as simple as a button they'll wear for a day or a note cube they'll keep on their desk for weeks.
To make Customer Service Week gifts meaningful, first, select a gift that employees can use. Second, make sure you personally give the gift to employees. Don't set gifts on a conference table and require employees to pick them up. Give gifts to employees individually and take a few moments to have a short conversation.
 Friday – End the week by having a team lunch. For less expensive lunch options, consider ordering pizza or hosting a potluck lunch and ask everyone to bring in a dish to share. Potluck lunches are a favorite at Baudville because you get to try many different foods, and everything is always wonderful!
 Everyday – In addition to the Customer Service Week ideas for each day, you can do small things everyday to keep the momentum and enthusiasm growing during the week:
Theme days – Have a different theme for each day, and encourage employees to dress accordingly. For example, you can declare a decades day, Super Hero day and favorite school shirt day.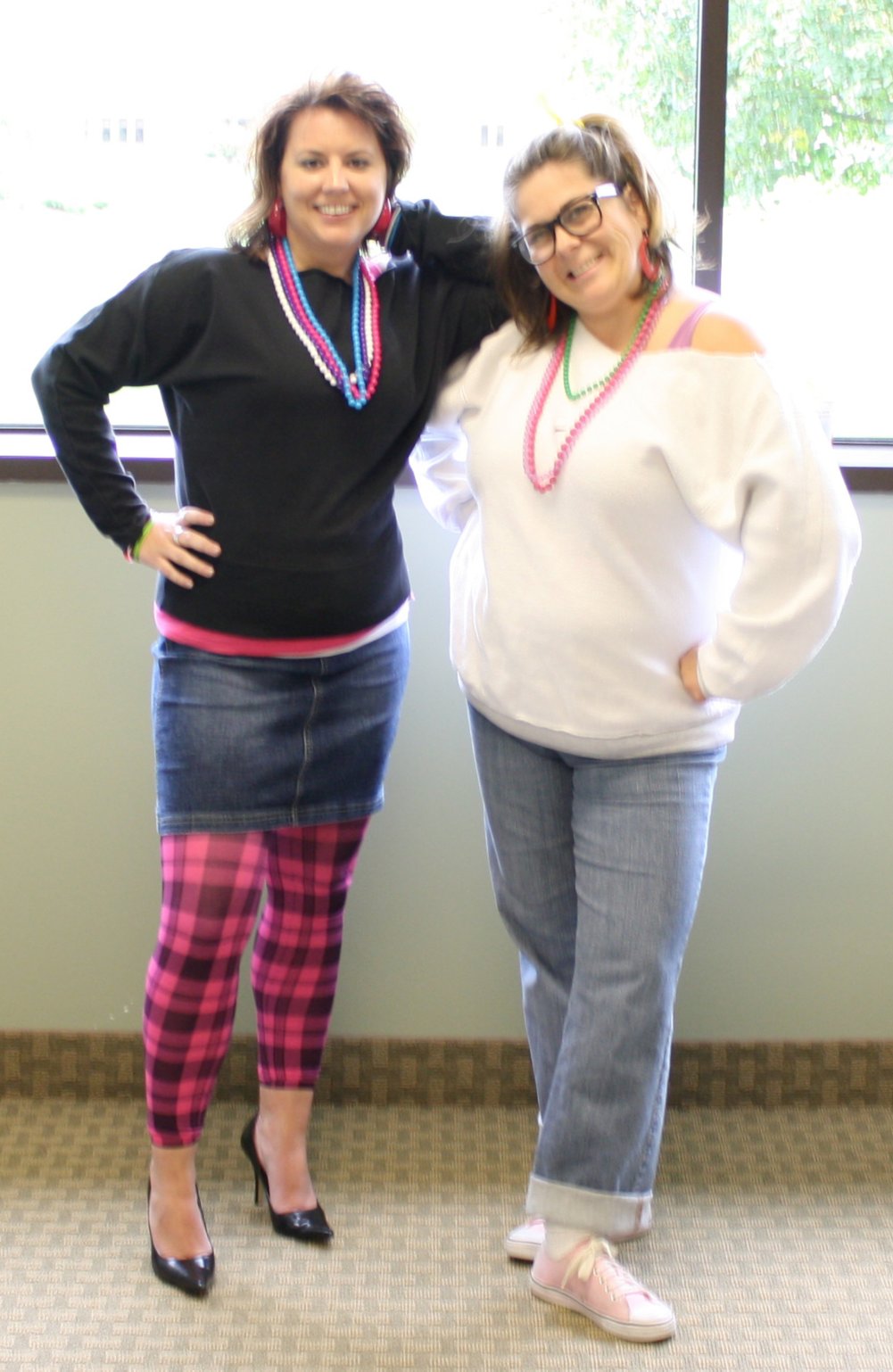 A couple Baudvillians show their love for the 80s on Decades Day!
Communicate – Take pictures of people dressed for theme days, participating in activities, or enjoying snacks. Post the pictures internally as soon as possible to keep everyone in the loop.
Recognize – Don't forget the most important part of Customer Service Week, recognizing your customer service team! Share information about team goals achieved or great service stories with the entire company. Let everyone know how much customer service rocks!
------------------
Cori is Baudville's in-house Recognitionista (she's officially a Certified Recognition Professional, too) and a member of the Millennial generation. Get her employee recognition tips and special discounts by liking Baudville on Facebook.