Congratulations! Joining the ranks of Manager is a big deal. Ready or not, you've accepted a gig that puts you in charge and also pins a target to your back. Don't worry! You can avoid the "Kick Me!" sign with the help of a few solid tips.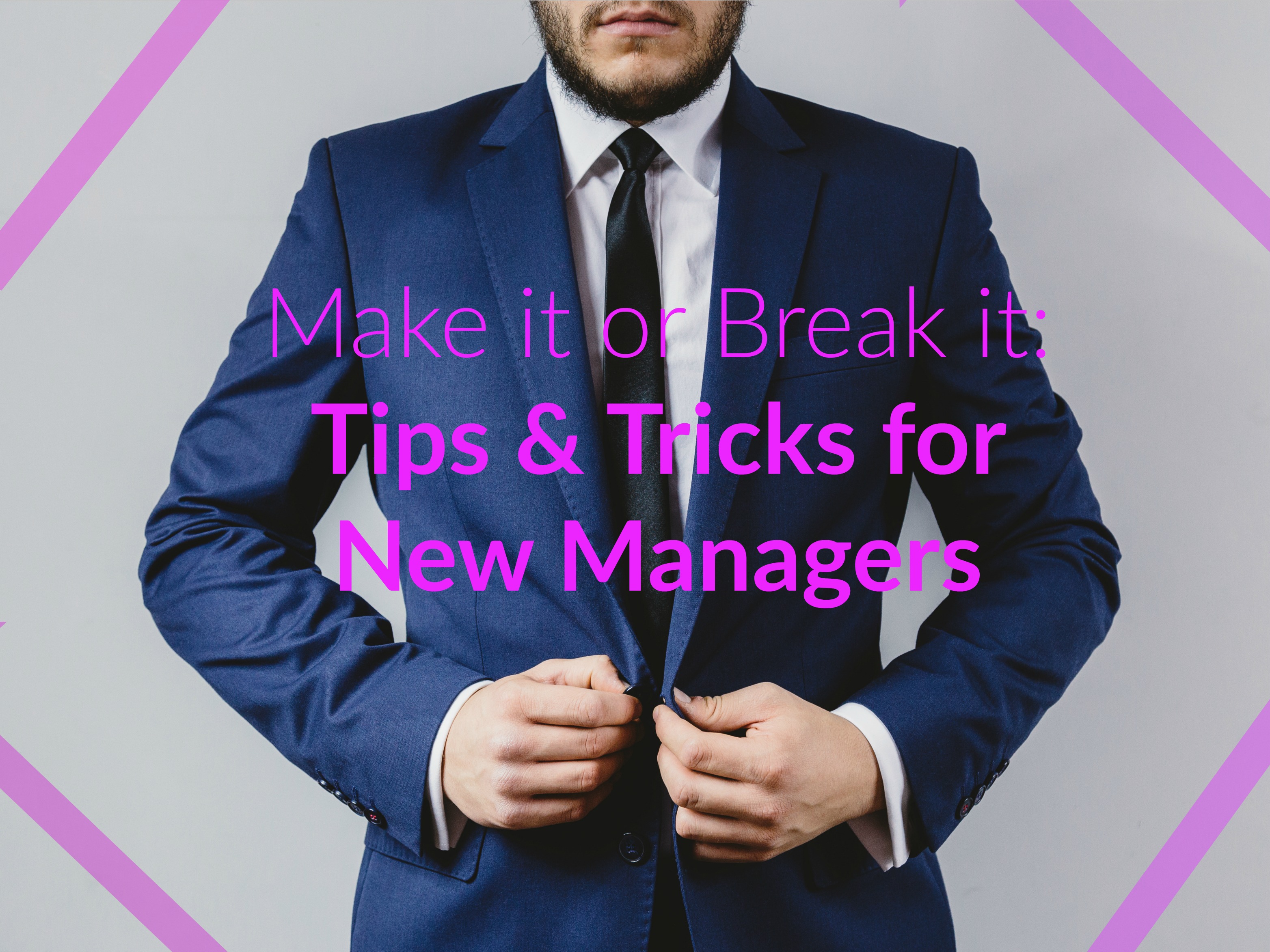 1. Trade Places:
You were likely promoted for hitting your personal projects and performance out of the park. When you become a manager, your value is much less about you. Instead, your team members' contributions are #1 and understanding what makes them tick is a top priority. Forbes suggests that you "consider the other person's perspective, needs, interests, skills and preferences. This simple mindset shift will go a long way toward working through the challenges of your new role."
As soon as the ink on your promotion is dry, set up meetings with each member of your team. Get the scoop on what makes them want to come to work each day and how much managerial input they expect and desire. Tip: Don't get rid of these meetings once you're comfortable in your new role. Keeping biweekly or monthly check-ins gives you a perfect time to problem solve or celebrate a job well done.
2. Be the Team:
As Entrepreneur said, "Through the good times and bad, who are people going to look to when they need inspiration or an example for how to act? The answer is simple: you."
Being an example is easier than you might think:
Dress professionally.

Arrive five minutes early.

Smile and give it a positive spin.

T

ake a lunch outside of your office around noon.

Work hard AT work and try to lay low on evenings and weekends.
3. Recognize:
If you make one decision as a new manager, let it be to recognize your employees. The value of employee recognition can't be underscored enough. Even if your budget is zero, a handwritten post-it note, high five, or email with the rest of the team copied can be better at raising morale than a raise. Seriously! Encourage teammates to celebrate eachother and watch achievement go through the roof.
4. Become a Mini-Me:
Find a mentor that you can turn to with your managerial questions. You don't necessarily have to emulate their style but it's helpful to have an experienced manager's input when you're up against something tough.
To find that special someone, Entrepreneur suggests that you "Look across your company or outside your company (perhaps someone you worked with in a previous job) and approach them and see if they would be willing to help out."
5. Commit to Learning:
The work doesn't stop once you've landed your dream promotion. Commit to learning by spending some time reading professional development books, listening to TED Talks, and attending seminars and classes in your field. Encourage your team to do the same. Knowledge is power!
Awesomely Amazing Books for Leaders Looking to Learn:
A Few Common Mistakes to Avoid:
Micromanage: Don't forget to delegate!

Get Credit Greedy: Taking all the credit for team wins is the quickest way to get everyone to hate you.

Know-It-All Syndrome: It's OK to not know it all when you're fresh on the job. That doesn't mean that you can't find out!
For great ways to get your team moving, take a peek at our free eBook!