Our work environments are made up of all kinds of personalities: the generous soul who can always be counted on to have treats at her desk; the infectiously optimistic cheerleader; the quirky rebel; the chatterbox… You call them coworkers; we call them inspiration for our new Print & Posts!

Let's face it, everyone likes a little attention once in a while. We know it, and we want everyone to experience the power of daily recognition—even if it's just with a short note that makes a person feel noticed. That's why we designed these Print & Posts that anyone can download and use around the office.

We're pretty sure there's something here for everyone, plus they're fun, friendly, and free; just download the PDF, clip out the snappy sayings, and post them up in cubicles all over.

Spreading a little humor is always a good thing; so, go ahead, make someone's day!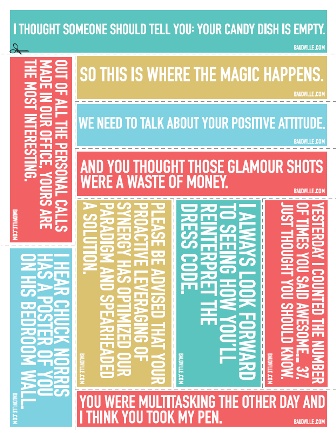 Download our Print & Posts Here!