National Make a Difference Day is just around the corner! October 25th marks the largest national day of community service. What are you going to do to celebrate?
In 1992, USA Weekend magazine created Make a Difference Day and the task was simple: do something to make a difference; do something to better someone's life.
Want to participate? Visit the MDDAY home page and check out the projects that you can join, or start your own. We want to make sure you show up in style. Our team shirts are perfect for MDDAY or shop all Make a Difference items!
Already know someone making a difference? Share their story!
Here at Baudville, we believe in changing lives, just like the mission of MDDAY. For those of you who stay up to date on Baudville happenings, you'll remember our journey to build the Saddle Safari Trail at the Equest Center. Check out Baudville's Helping Hand to read up on our most recent projects!

Now is the time to get moving and give back! We'd love to hear what you are doing to make a difference!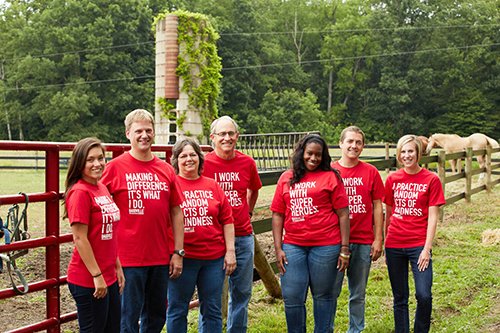 --------------------------
Jenny became a Baudvillian in 2013 and started out as a member of our sales team. She seemed to have a creative knack for Marketing and joined ranks with Krista in 2014 as Baudville's second Web Marketing Coordinator. She loves our products and probably owns every piece of drinkware we have to offer! Equipped with great knowledge of our customers and products, she's excited to help make your web experience even better!