As Baudville's copywriter, I am painfully aware of the number of themes we have that relate to making a difference (if you've ever had to write repeatedly about the concept of making a difference without saying making, a, or difference, then you know what I'm talking about).

But there is a very good reason we have so many themes of this nature. There are so many ways that a person can make a difference, whether it's volunteering for a non-profit, working as a caregiver, or having significant impact in a business setting. All people in all situations have the power to affect the world around them in a positive way, which means our customers need to have choices when it comes to thanking these folks.

So, we have Making the Difference, and Making a Difference. We also have one called The Power of One that has a "you make a world of difference" tagline.

Inside these four walls, we giggle about the redundancy (or maybe it's just me alone in my cubicle); but it's actually very serious business. When you think about it, it's pretty profound that there is such demand for this sentiment. In fact, this Saturday is National Make a Difference Day—a whole day dedicated to (here it comes) making a difference! The organization that instituted this holiday focuses on the philanthropic aspect, but since we know that making a difference can take so many forms, we like to promote them all.

Wondering how you can get involved? One way is to participate directly in volunteer efforts in your community.
You can also consider every day Make a Difference Day, and focus on the little things you can do all the time to create positive change. At work, in your neighborhood, at school, for the environment, on the political front, on the other side of the world, or even by smiling at the right person at the right time—there are opportunities everywhere!

Finally, possibly the most significant way you can do your part is to encourage (and thank) those who make a difference. That's not why they're doing it, but that doesn't mean we all don't appreciate the efforts any less. And guess what? We have just the thing…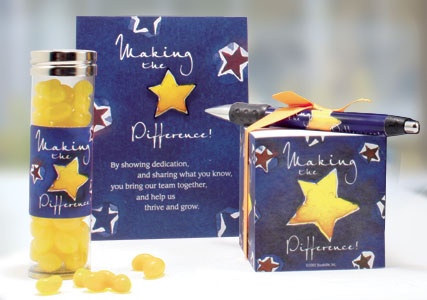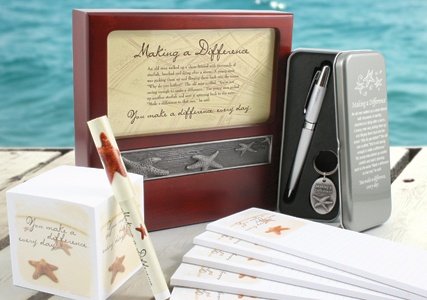 --------------------------

Allison is Baudville's one (and only) Copywriter. She's been writing for a variety of media for more than eight years, so if she tells you she has been there and done that, she probably has. Before embarking on a career in writing, Allison worked as a department manager where she used Baudville products to motivate her team. She's what we call a true believer!