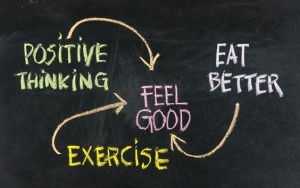 This month, Baudville has kicked off our annual fitness challenge – perfect time for summer right around the corner! A light bulb went off in my brain: this is the perfect opportunity to start my own journey and still be held accountable by all of my co-workers participating in the Baudville challenge. Besides, who doesn't get a little more motivation from healthy competition?
My awesome boss, Kim, joined in on the fun and we decided to embark on the Whole30. It's safe to say I don't know if I would be as far as I am without having her doing it with me! We're on Day 17 of 30, and it's been quite the ride full of ups and downs.
My biggest fear going into this feat was the idea of meal planning and staying compliant at work. Healthy and work don't always mix – especially when the Girl Scout fairy comes to the office sprinkling boxes of samoas everywhere, or when your cube-mate Allison goes out for ice cream on her lunch and you feel tears welling up in your eyes when you see the chocolate-y goodness.
This took some serious mental preparation, meal preparation, and life preparation. (By life preparation, I basically mean eating half of a pizza the day before my Whole30 started. Maybe some pop, too?)
I have prospered thus far with minor slip ups, and now that I'm half way through a major life switch around, I figured I'd pass along a few tips for making healthy changes and integrating them into your 8-5 career life:
Stay Positive. Making any life change is sort of like waiting in line for a roller coaster. You can't have a negative mindset going into it, or it's terrible and you want off halfway through. Really sort out your fears, challenges, excitements, and goals and wake up with an "I can do this!" attitude, and things will go a LOT smoother.
Plan, plan, and plan some more. For me, this was a lot of meal planning and prepping, but for you it may be waking up 30 minutes earlier to get to the gym, or walk your dog, or simply grabbing an apple instead of chips for a snack. Whatever the change is that you're incorporating, make sure you plan for it.
Use your resources! I found Facebook support groups, friends, and co-workers to be very encouraging. Pinterest has been a very big help, along with Instagram accounts with recipe ideas, and other helpful nuggets of information. Chances are if you're doing it, someone else is too, so why not collaborate and be extra awesome together?
Write it down. Put your goals on a sticky note and place it near your mirror, set up a recurring reminder on your Outlook calendar, blog about it (or journal about it if publicizing your changes isn't your thing), or be sure to take note of how you're feeling that day in your phone calendar. When you feel like giving up, look back on how far you've come! It will push you to finish out strong.
Remember why you're doing it. If you follow step #4, and write down your goal and purpose for your goal, it will help you immensely when achieving your goals!
I hope this has sparked you to evaluate your current goals and spring into change as the seasons do! It's been an awesome experience, and my workplace has been not only encouraging, but accommodating to positive changes and picking up healthy habits!
---
Kaleigh joined Baudville in 2015 as the Digital Marketing Coordinator. She's got a love for all things content, knack for all things wordy, and a passion for web marketing. With her eCommerce background, she wants to be sure to make your web experience more than great.