What is the greatest challenge you face as a recognition professional? Have you ever thought about it? According to Recognition Professional International's research, the most popular answer is: Achieving management buy-in, management support, and involvement at all levels.
If your greatest challenge as an employee recognition professional is to sell the importance of recognition to your organization's leadership, and then sell it to people at all other levels, we can help!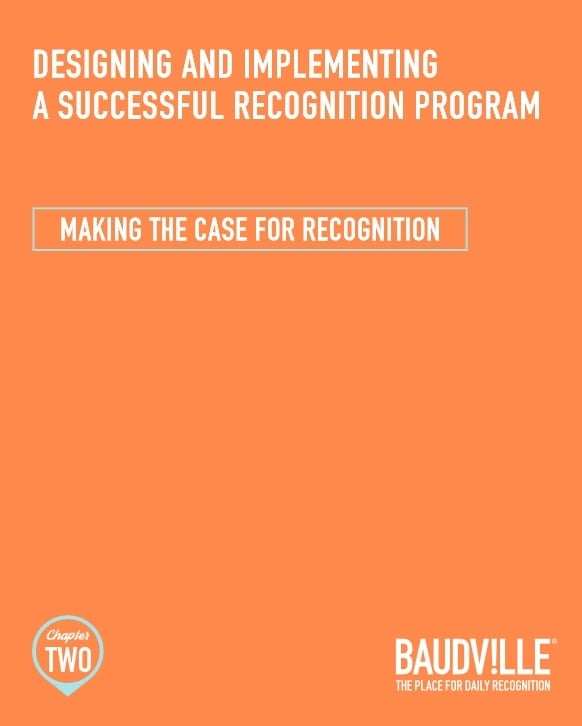 Download our Designing and Implementing a Successful Recognition Program eBook for expert tips on getting the buy-in you need all across your organization. In the "Making the Case for Recognition" chapter, you will find:
- Building Blocks For A Well-Constructed, Strategically Linked Recognition Program
- Expected Outcomes of Successful Recognition Programs
- The Psychology Behind B.F. Skinner's Reinforcement Theory
You know that positive reinforcement in the form of praise, encouragement, and recognition is a powerful tool for shaping behavior. By defining the behaviors that accomplish company goals, recognizing those behaviors, and rewarding them, you will increase the likelihood that those behaviors will recur. Do you like how that sounds? Download the eBook now for more!
Download any of the Joy of Recognition eBooks featured on the blog during September and be automatically entered to win $300 towards Baudville product! You'll be well on your way to creating the best employee recognition program imaginable.
*Disclaimer: Offer Ends September 30th, 2015 12AM EST. Winner will be chosen October 1st and notified within 7 business days.
---
As a team member since 2005, Falon has worn just about every hat the 'ville has to offer. She's seen both sides of working life — as an employee and as a manager — so if it sounds like she knows what she's talking about, we're pretty sure that's why. When she's not juggling between the IDville and Baudville brands, she's been known to whip up a mean diorama - just like that!