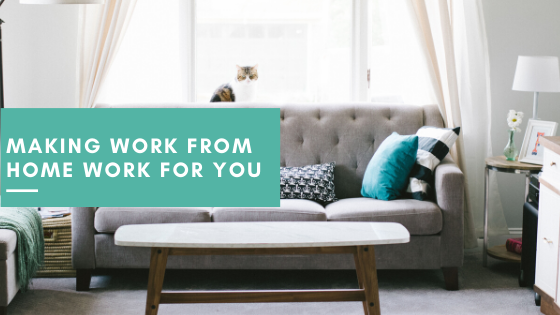 Working from home is an entirely different experience than it was 5-10 years ago. With the advances in technology, we can stay more connected than ever…even if we're not in the same room. However, working from home isn't all PJ's and sleeping in – it's just a new way to tackle your workload. Here are some tips and tricks for maximizing your at-home experience: both personally and professionally.
Create a workspace
Whether it's your dining room table, a desk shoved into a corner, or the back of your bedroom closet, create a space that you use solely for your work. Realistically, you might not ever experience the same kind of productivity that you have in the office, but separating a physical space will give you the mental space you need to focus on the task at hand.
DO NOT WORK FROM YOUR BED! It's tempting, we know, with the soft sheets and the duvet that you scoured Home Goods for, but you're not going to do your best work from the comfort of your bed. Beds are for lounging, for relaxing, and resting. Keep the boundary between your personal and your professional and step away from the pillows!
Keep your company culture in place. For Baudville, that looks like sending e-cards, acknowledging your teammates, or doing a daily stretch. But whatever your company's traditions are, try to keep those in practice. Just because you aren't physically AT work doesn't mean you're not still a part of the same team.
Follow a routine
Determine the best way to set yourself up for success. Are you blocking out hours for tasks? Setting timers for 30-minute bursts of productivity where you ignore your phone or email? Keep what works for you from the office and apply it at home. You don't need to reinvent the wheel to be successful – you just need to shape it to fit your new location.
However, you don't have to follow the same schedule that you had at your office…because you aren't at your office, and that can lend some perks! While we might not recommend it for every day, that means you've got the freedom to wear your sweatpants instead of your dress pants, so take it!
Give yourself some mental breaks
Let's be honest, you don't spend 100% of the workday working, so don't expect that of yourself just because you're at home. There are new distractions, new tasks, and a whole new kind of stress that comes with work from home.
Take 30 seconds to do some deep breathing, drink a glass of water, take a spin around the block, or just check your personal phone/social media. Set a timer so that you don't get fully sucked in but give yourself a little break.
Try to build in your breaks throughout the day so that you can truly focus and commit to the work at hand – knowing that at 1:00 you have that 15-minute break to look forward to. Much like my dog, I'm a very food motivated person, so I essentially live for lunch. I know that I can power through my morning with that goal in mind! Find what motivates you and use it to drive your performance.
Remember that this is something new
Studies indicate that when you're farther apart, you need more communication, not less! It's something that is missing from the natural rhythm of daily office life, so find ways to fit it into your at-home space! Whether that's a phone call with your manager, a video call with your team, or simply messaging your coworker, it's important to stay connected.
Want to know how important communication is? According to a renowned study, only 7% of communication is WORDS! The rest is made up of a ton of different factors: 38% is tone and inflection, and 55% is body language. This is why we at Baudville communicate solely through interpretive dance. Just kidding! But if you can connect with your team on video chat, you will get way more of the message than email, or even a phone call.
New experience is just that: new! While the #WorkFromHome crew has to do our best to keep productivity up and get tasks completed, it's important to remember that this is a learning curve for everyone, so have some patience with not only your team, but with yourself as you figure out the best way to make working from home work for you. And as we like to say here at Baudville: Together Everyone Achieves More.

For more #makingworkhappy ideas and inspiration, follow our blog!