Hello, readers! This is a special edition of our "Getting to Know the Baudville Team" interview series. What's special about it? Well, Andrea, a member of our outbound sales team and Baudvillian since 2007, has something pretty exciting going on and we think it is definitely share-worthy!
Recently, Andrea and her husband adopted two young boys through D.A. Blodgett - St. John's Home. As a company, Baudville supports St. John's Homes' mission and couldn't be more excited to learn that Andrea and her husband have expanded their family with two wonderful children in need of a loving, forever home. Here's what she had to tell us about it:
1. What inspired you to consider adoption?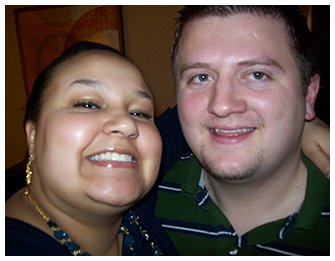 Chase (my husband) and I always wanted a family. Unfortunately, having children the old fashioned way, because of some struggles with fertility, was just not in the cards for us. In December, we celebrated our five-year wedding anniversary and we decided it was time to start our family a different way. Our New Year's resolution was to do some research to figure out where to begin the adoption process.

2. How did you become connected with D.A. Blodgett - St. John's Home?
To be completely honest, I had no idea what St. John's Home was until Baudville offered a few opportunities for employees to volunteer at their campus. When we began our research we looked into D.A. Blodgett and a few other agencies. D.A. Blodgett is so incredibly nurturing and attentive. They are an agency that really cares about their children. Ultimately, DAB felt more like home for us.
3. The boys have been with you full time for about one week. What has changed for you in that time?
Sleep! We've been doing weekend visits for the past 10 weekends. They've lived with us for one whole week now, and I think the excitement of their forever home is so new that they are up at the crack of dawn every morning ready to start their day. No more sleeping in on the weekends!
Mostly, though, we really feel like parents now. Before, with just weekends, the feeling wasn't the same. Waking up with them every day solidifies our commitment and decision to become parents. It's a great feeling to open your heart and pour out that much love.
4. What have been some joys and fun moments you've experienced?
Oh my goodness, there are too many to count! Our oldest just turned five, so I threw a superhero themed birthday party for him. He'd never had a party before, so it was an honor to be the first. And of course I went all out! I also had the opportunity to chaperone his school field trip to Post Family Farm last week.

Our youngest, who's three, is a boy's boy! I'm learning all about trucks, cars, and anything that gets dirty. He loves riding his bike and scooter and is always on the go!
5. How did you prepare and what resources did you look to before you started on this journey?
In the state of Michigan, each adoptive family is required to attend a series of classes called PRIDE. PRIDE stands for Parent Resources for Information, Development, and Education. It's a program to prepare and educate families that are interested in adoption or foster care. Our classes ran every Saturday for eight weeks. We also attended a TIP class for three Wednesdays. TIP stands for Trauma Informed Parenting. This class taught us parenting skills outside the box for children who've experienced trauma. One of the reasons we selected DAB as our agency was because of their wonderful resources. They have support groups, parent mentors, and anything else we need to be successful.
6. What advice would you give to potential parents who might be considering adoption?
Whether you are looking to start or expand your family, just the fact that you're considering adoption means you have a huge, incredibly open heart. There are so many great kiddos out there that are in need a loving forever home. Find an agency that feels like family to you. Attend an orientation and ask a LOT of questions! Be completely informed about the process. It's a life-changing decision for your family. And also the greatest journey and most rewarding thing you'll ever do.
7. Is there anything else you'd like to share?
I'd just like to thank all of our work family and friends for the awesome amounts of support. This year has changed our lives and it's wonderful to know that we have those folks in our lives to love and support us all the way!
--------------------------
Allison is currently living out the elaborate fantasy she described to her now-former staff and colleagues in early 2001. With a hearty dose of courage and absolutely no plan of action, she abruptly left her middle-management job to become a writer—and today she is doing just that in her role as Baudville's Senior Content Writer. She's here to tell you everything she's learned in her 20-years+ professional life, plus a lot more. She's wordy like that!