Being the 'ville's social media guru requires me to follow quite a few blogs so that I can stay informed about the happenings of the business world. Lately, I have been noticing a trend. A word keeps reappearing in blog headlines from all different sources: millennials. I actually even received a blog from Fast ompany yesterday morning titled, "Why the Most Successful Organizations Have Millennials in Charge".
I am a millennial myself, so this keyword always piques my interest. I have read a lot of articles and learned a lot about my generation and the qualities we are looking for in a company and I definitely agree with what the experts have to say.
My guess is you have a few questions about this trending topic and are curious as to what the buzz is all about. I am here to shed a little light on why millennials matter to you and your business.
What is the definition of a "millennial"?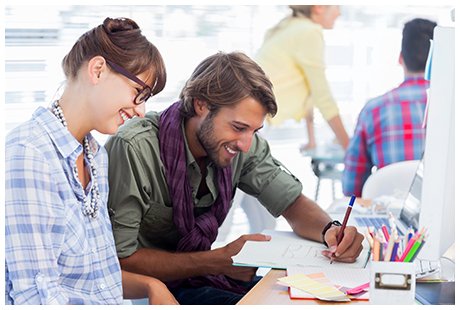 Millenials are also known as Generation Y and were born from 1980-1999.
Why do they matter?
In a recent article from Fast Company, it was stated that research by Deloitte projects that millennials will make up 75% of the global workforce by 2025. If you're a hiring manager, or in human resources, that statistic should really stop and make you think. You probably want to snag some of the top talent within that 75%, don't you?
There are also many perks to hiring millennials. An article from Job Science sums them up this way: they are affordable candidates, they have fewer bad habits to break, they are social media savvy, they are adaptive and creative thinkers, and they are experienced team players. Convinced yet?
How do you recruit and keep millennials happy?
This is the million dollar question. There is a misconception from other generations that millennials only care about the Benjamins. While salary is important, millennials actually care more about happiness and work-life balance. An article from Inc., titled "How Millennials Think and What to Do About It", stands out and sums millennials up pretty well. The author Brian Halligan states, "This new crop of employees is far more motivated by their mission than by the money they make. They want to transform a broken industry, save the planet, feed the starving, etc." as a millennial, I agree!
Millennials are interested in a company that is actively volunteering within the community, the speed of career advancement, interesting and challenging work, and the opportunity to learn and grow with the company. If your company's mission is to increase capital gain and ROI. then you may want to rethink your strategy if you want to get your hands on today's top talent.
Millennials also want freedom. They want a boss that acts as a mentor rather than a micromanager. They want someone to coach them, not someone to necessarily "manage" them. Not sure what that means for you? Take a look at this article from Forbes for some guidance and tips.
Freedom also means working when and where they feel most productive. If millennials are getting distracted and need a change of scenery, they like to have the ability to pick up and go wherever the creative juices are flowing. They enjoy summer hours and the opportunity to work from home every now and then. It isn't about working less, it's that productivity comes from being in the "zone." The days of the normal 9-5 inside 4 gray walls is not enticing enough for millennials. In fact, it just plain doesnt work!

So there you have it: the tricks of the trade and some answers to some of the questions you had about the hype surrounding millennials. If you want to attract them and retain them, you may have to give your culture a little facelift in order to make your company more desirable to these twenty-somethings. Otherwise, the top talent could be snatched up by your competitor leaving you in the dust!
--------------------------

Krista is the 'ville's Web Marketing Coordinator. She came to us in 2012 as part of our stellar Sales team. Using her experience with Baudville customers, she helps create an online experience we're sure you will enjoy! Being the chatterbox she is, she truly misses talking with all of you so don't be shy and drop her a line!