The turn of the new year is a time for making fresh starts, gaining new perspectives, and setting strategic goals for the months to come. And, we have a wealth of new products (more than 250, actually!) to help you kick off your year right. What have you resolved to do this year?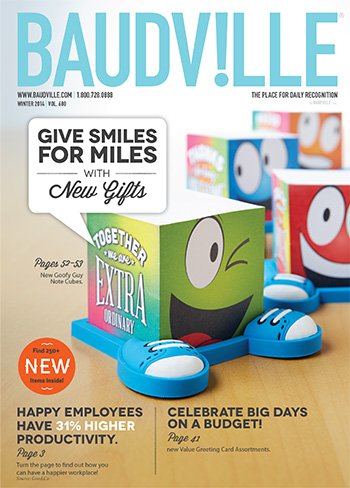 Have More Fun. This may seem like an unusual goal, but, knowing that happy employees are 31% more productive, fun should be a priority on everyone's list. I'm not necessarily talking about goofing off, though I have made a pretty good case for it in the past...but more about adding more light-heartedness, joy, and humor to our days. We developed the Positively Awesome theme for exactly this purpose. It's impossible not to smile when you're giving these bright and happy employee gifts.

Try Something Different. I'm not talking about Cronuts (though I could probably spend an entire day talking about them...), but I am talking about all-new looks. Like glitter. And PVC. And magnets. And springs. These might not be new to the world, but they are new to lapel pins—and since those haven't changed in about 150 years, this is pretty exciting news. Out of all of our new designs, Success Magnets™ are the ones I'm most excited about. The lapel pin is magnetic, and the cool card it sticks to is, too, giving the recipient a pin to wear and card to display!

Learn Something New. We know that it can be tough finding fresh and affordable ways to engage and motivate your team, so we conjured up the Idea Genie to help. If you're a busy manager, you'll learn a few tricks from our Easy Genie. If you're on a tight budget, you'll learn how to save some green from our thrifty Dollar Genie. If you need tips on how to make your team feel genuinely appreciated, you'll be grateful for our Thanks Genie. Need more ideas? Stay tuned!

Be Decisive. We realized that this is harder than it sounds, which is why we developed the Rock-Paper-Scissors Gift Sets. No matter which you choose, each has a sticky note pad, holder, and scissors, so you'll have a winning employee gift with all the elements needed for a hyper-productive day.

These are a few good ways to get started, but if you want to see more, check out our entire collection of new products here!

Cheers to a happy and prosperous 2014!

--------------------------

Allison is a self-proclaimed Copywriting Diva and has the certificate to prove it! She's been writing for Baudville for five years and has worked in a variety of business settings for 20 years. Before becoming a professional writer 13 years ago, Allison worked as a department manager where she used Baudville products to motivate her team. She's what we call a true believer!