This month we're introducing a ton of brand new trophies—just in time for your year-end award ceremonies! Laura, our Creative Manager, is here to tell you a little more about this new trophy offering.
Over the last several months, my creative team has been working hard to bring spectacular new trophies to our

trophy collection

that focus on both variety and elegance. We started with more than 30 new trophies, then crafted brand-new graphic titles and verses that will make a powerful impression on your award recipients.


Laura
Creative Manager
Taking inspiration from these pairings, our team created all-new styling that is updated and fresh. We put our hearts and souls into
these awards
. I'm so proud of the work that everyone has done!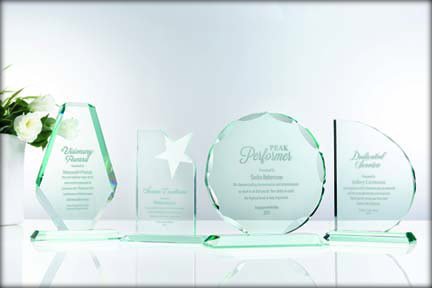 We hope you love them as much as we loved designing them!

(If you want to learn more about Laura, check out these
free desktop downloads
she created just for you!)

--------------------------

As Baudville's Creative Manager, Laura is the cherry on top of a diverse and supremely-talented design team. In her eight years at the 'ville, she's contributed to a complete revamping of the Baudville brand, seen thousands of products developed from a spark in the artist's eye to completion, and been a driving force behind the fetching catalogs that grace mailboxes everywhere. Yet, somehow, she has still not seen the Princess Bride. Inconceivable.