Whatever you call it, November is officially the time when Mo (moustache) Bros take action by changing their appearance and growing a moustache (or beard) for the 30 days of Movember. They do this not only to spark conversation, but to raise funds to support men's health. Mo Sistas also commit to supporting the men in their lives while helping to promote men's health!
Here are 7 Steps to a Successful Movember or No-Shave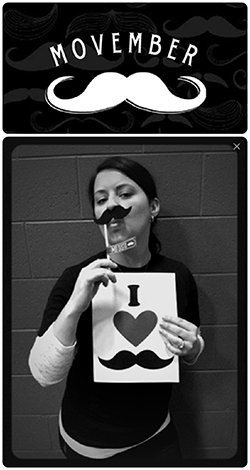 Step 1: SHAVE THE DATE: November 1st is the day to get clean shaven and ready to grow!November for Your Workplace:
Step 2: Take photos of your gents all spiffed up and smooth faced.
Step 3: Get growing!
Step 4: It's gonna get real awkward, real quick. Weeks 1-2 are the worst. Make sure your Mo Sistas are there to support the guys when they need it most. Also, this is when the most active conversations take place for the guys – help them get ready to explain what they're up to and why, other than just looking scraggly.
Step 5: Take weekly update photos and have some fun along the way with our clever (and FREE) Movember downloads and games.
Step 6: Keep the MOmentum going by increasing the stakes for the guys who can persevere. Whether your company has decided to donate to a local men's health cause, or directly to the Movember site, up the ante for Mo Bros who stick with it, or create a penalty for shaving before the month is complete.
Step 7: Celebrate the culmination of facial hair germination! Whether you choose a participant lunch or happy hour, or bring in donuts and coffee, be sure to wrap up the month's festivities right by putting the spotlight on men's health and your contributions as a team to a great cause! Take a look at our final MOwards from 2012!
Looking for more ideas? Check out this article on Fundraising 101 for the Workplace.


--------------------------

As a team member since 2005, Falon has worn just about every hat the 'ville has to offer. She's seen both sides of working life — as an employee and as a manager — so if it sounds like she knows what she's talking about, we're pretty sure that's why. When she's not juggling between the IDville and Baudville brands, she's been known to whip up a mean diorama - just like that!