As Baudville's copywriter, I am responsible for a lot of the words you see in print, online, and in your inbox. Do you know what happens when you write about recognition day in and day out? You sometimes repeat yourself, without even knowing it. (And sometimes fully knowing it.)

When I realize this is happening, I usually try to spice things up a bit by interjecting ridiculous words into our marketing materials. They most often get intercepted and put back into my rotating arsenal of absurdities; but I still keep trying.
The other day, I was making a hard case that "hoopla" is a completely appropriate word to use when talking about trophies and certificates. I lost that negotiation, by the way, but I still stand behind my position. Though, I will admit that it might be a little too informal of a word to capture the sophisticated fanfare of an award celebration.
However, it is definitely not too informal to attach to National High Five Day, which is today—always the third Thursday in April.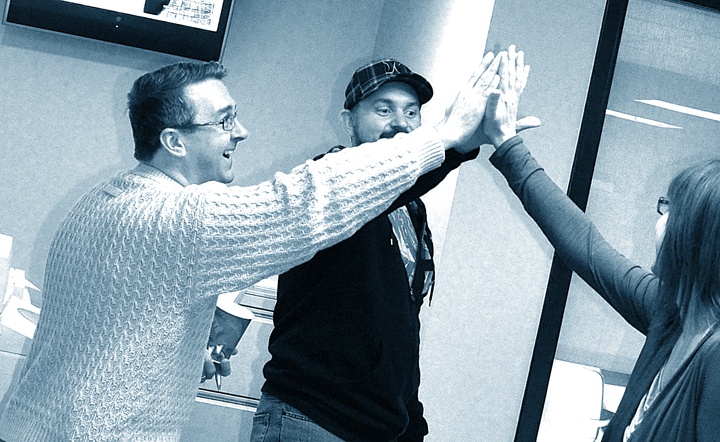 Now, you might be thinking: this sounds familiar…
Well, it is, because I have actually written twice about the power of a high five. Once for National High Five Day proper, and once after I received a high five that came precisely when I needed it.
But my timing is perfect on this because, as it turns out, my desire to see hoopla in print and my love of high fives go hand in hand. Here it is, straight from Dictionary.com:
hoop·la [hoop-lah]
–noun Informal
1. bustling excitement or activity; commotion; hullabaloo; to-do.

When someone does something noteworthy at your workplace, it's not only OK to make a big deal about it, it should be a requirement. It doesn't need to be an expensive or shiny award. The important thing is that it's on the spot and meaningful to the recipient.
So, today, National High Five Day, surprise a coworker (or even a stranger) with a high five for a job well done. You'll make their day and yours, too.

(Today is also my Birthday today; so, if you see me, you know what to do!)
Looking for other highly affordable (ahem, FREE!) ways to make someone's day? Check out our free ePraise and Print & Posts!
--------------------------
Allison is a self-proclaimed Copywriting Diva and has the certificate to prove it! She's been writing for Baudville for two years and has worked in a variety of business settings for more than 17 years. Before becoming a professional writer 10 years ago, Allison worked as a department manager where she used Baudville products to motivate her team. She's what we call a true believer!