As I've already mentioned on the blog, April and May are BIG appreciation months with holidays galore. Organizations will be celebrating National Volunteer Week, Administrative Professionals Week, Teacher Appreciation Week and National Nurses Week. Some organizations will celebrate all of the above!
Keeping appreciation fresh and exciting is always a challenge. You understand the importance of saying "thank you" and "we appreciate you," but you also want to be creative about your delivery and do something different.
Thankfully, you have us!
We've just released a new spring catalog that is complete with new appreciation themes and employee appreciation gifts to freshen up your appreciation efforts.
Our designers have created two new themes,
You are Truly Appreciated
and
We Appreciate You
, that can be used for the upcoming employee appreciation events. We've also added new appreciation gifts to our popular
Making a Difference starfish theme
.
Should you make employee appreciation gifts part of your event? We've done some homework on the subject, and our professional opinion is yes. You can read our white paper to see for yourself. We found that giving an appreciation gift makes the recognition more memorable and impactful than (a) nothing at all and (b) cash, which gets spent and forgotten.
We design all our appreciation gifts to make sure you get the most motivational bang out of your buck. For instance, we put messaging on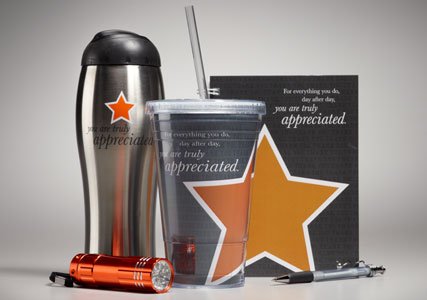 almost every gift item. No matter what appreciation gift you select, your recipients will be reminded "you make a difference" or "you are truly appreciated." Gifts are also designed to be used in an office environment or easily displayed on a desk. When employees use their gift, they're more likely to remember the appreciation moment.
For more ideas on the upcoming employee appreciation holidays, continue to visit our blog and the Recognition Resource Center!
----------------------------
Cori is a Certified Recognition Professional at Baudville and a member of the Gen Y generation. Get her daily employee recognition tips and special discounts by becoming a fan of Baudville on Facebook.