This year we've hit the ground running! Not only did we come out with great new managers' tools, two new themes, and our Team Shirts™ in January, now we've added new gift sets, themes, and custom gear to our product line. We're excited to introduce over 200 new products, some of which you can't find anywhere else!

As the Product Coordinator here at Baudville, I have been working with this product line over the last half of year and am super excited to talk with you about my favorites.

Gift Sets: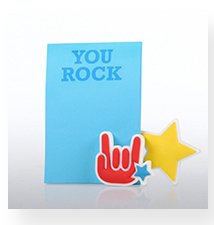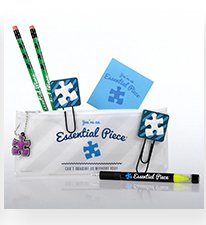 1. Magnet Photo Holder & Note Pad Gift Set - $6.95ea
This fun Notepad and Photo Holder gift set is perfect for any team members desktop. The two PVC shapes are held together with a firm magnet creating an excellent way to showcase notes (25-sheet notepad is included) or photos. Mine is currently next to me on my desk with a picture of myself and some of my coworkers!

2. Desk Supply Zip Case - $9.95ea
This gift set has your office essentials right at your fingertips! The Desk Supply Zip Case comes with a colorful zippered vinyl case, two pencils, a pen with highlighter, two PVC paper clips, and a coordinating sticky notepad. Give it to your employees as a welcome to the team gift or as a gift thanking them for their hard work.

3. Appreciation Gift Set - $19.95ea
We bundled two of your favorite products, the Twist Top Tumbler and the Flip Top Sticky Note Set, to create a fantastic gift set. Plus, you get a coordinating fold-up tote bag! The Appreciation Gift Set comes in eight different themes so you can find the right message for your team.

Desktop Gifts: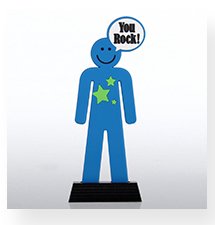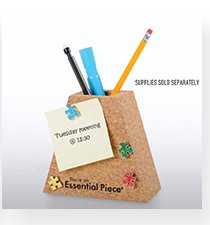 1. Desk Dudes™ - $9.95ea
Stand 'em, bend 'em, or stick 'em! They're flexible like that! Our fun Desk Dudes are a great way to spread some cheer to your employee's desks. Bend them to hold a pen or roll of candy. Stand them as a great decoration. Or stick them onto a magnetic surface with a handwritten note of praise.

2. Memo Caddy - $12.95ea
This ready-to-give gift is the perfect for organizing employee desktops! With bright, colorful designs and positive messaging your employees will love to showcase this gift on their desk. The Memo Caddy comes with 50 sheets of themed paper and a coordinating Praise Pen. I love how accessible my cell phone, pens, and pencils are in mine!

3. Pin-It Cork Caddy - $19.95ea
Our Pin-It Cork Caddy is a great employee desktop gift where your team members can show case notes of praise or their favorite things. Each cork caddy comes with four metal pushpins. Pin-It Cork Caddies are also a great and practical way for employees to showcase the lapel pins they have collected! We also offer a custom Cork Caddy so you can personalize it to fit with your organization and employees.

Check out my blog post next week to learn more about how our new products will rock your team's world!!

---------------------

Kendra is Baudville's Product Coordinator. Using her awesome powers of organization and research, she brings new and innovative products to our customers. She is a recent graduate and is ready to help with your recognition wants and needs. Watch out, because this young professional just touched down at Baudville!